Botswana players strike again over outstanding bonuses
By Mtokozisi Dube
BBC Sport, Gaborone
Last updated on .From the section Football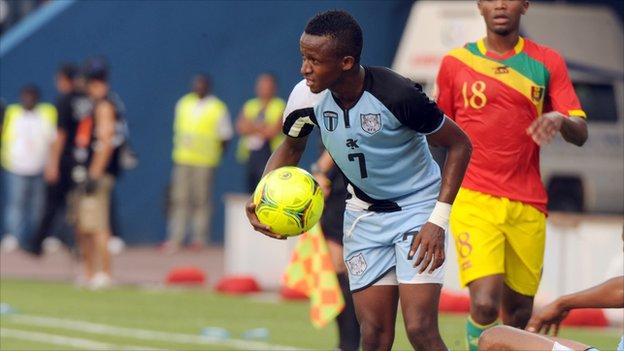 Botswana national team players have vowed not to wear the Zebras' jersey again until their outstanding bonuses from the 2012 Africa Cup of Nations are paid.
Zebras' coach Stanley Tshosane called 25 local-based players for a training camp this week at Lekidi Centre in Gaborone, but has had to drill rookies after all his stars who played in Equatorial Guinea/Gabon in January snubbed the call.
Botswana's key players also failed to turn up for a training camp early in March.
"If I've done a job for you, pay me for it before you ask me to do a new one," said Pontsho Moloi.
"All we are saying is that they should clear the monies they owe us from the last campaign and then they can call us for camps," Moloi told BBC Sport.
The Mochudi Centre Chiefs' winger said he was giving up on international football after the Africa Cup of Nations.
Tshosane confirmed that he met the players together with Botswana FA officials on Tuesday and they insisted there was no way they could play again for the national team before the issue is resolved.
Captain Mompathi Thuma, Moloi, Joel Mogorosi of Chiefs and Township Rollers' striker Onalethatha Thekiso are some of the players who attended the meeting.
"We spoke to the players about the issue and they maintained that they were not coming back until the issue is sorted," said Tshosane, who recently penned a new three-year deal.
He added that the impasse had disturbed his programme ahead of the upcoming qualifiers for the 2013 Africa Cup of Nations and 2014 World Cup.
"This has negatively affected my plan because the only other camp we will have before the qualifiers start will be in May and that won't be enough because our first game is in June," said Tshosane.
Botswana kick off their 2014 campaign away in Central African Republic (CAR) in June.
Botswana FA vice president technical, Dintle Mphele, said a meeting would be held ion Thursday to find a way forward.
Meanwhile, Botswana's international friendly match against Namibia on Wednesday 25 April hangs in the balance after the Botswana Football Association said it has no money.