Wigan find a different dimension - manager Roberto Martinez
Last updated on .From the section Football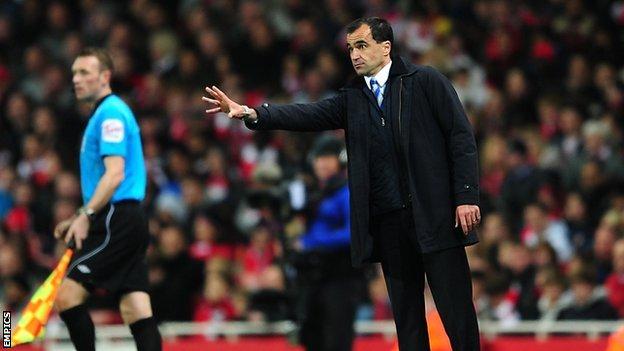 Wigan Athletic manager Roberto Martinez says his side have found a "different dimension" in recent weeks to climb out of the relegation zone.
The Latics are five points clear of the bottom three after back-to-back wins over Manchester United and
Martinez told BBC Sport: "If you look back to the beginning of February, we reached a very good level.
"Now to be able to get points and wins against top sides, it's going into a different dimension."
He added: "Probably the most pleasing aspect is that we deserved the points. That's credit to the players and how hard they've been working under the circumstances - with the real need of points and being in that position in the table."
Wigan were bottom of the table a month ago, but five wins out of six, with the only defeat a controversial one against Chelsea, have taken them clear of the drop zone.
And Martinez admits that their league position was weighing them down until their recent run.
He said: "We had performances, to mention a few Norwich, Aston Villa and West Brom, where we played really, really well but didn't get the points.
"That was because of the position we had in the table and the connotations that affect our final-third play - that stops you from scoring goals and getting points."