Reading 'should copy Stoke City model' - Rob Wilson
Last updated on .From the section Football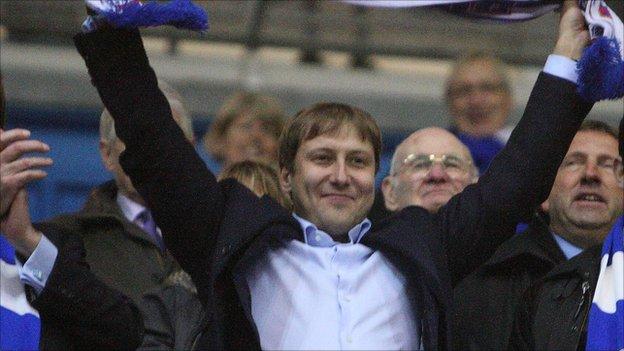 Reading should copy Stoke City's model to establish themselves in the Premier League, according to sports economist Rob Wilson.
The Potters have reached the FA Cup final, played in the Europa League and finished no lower than 13th since winning promotion in 2008.
The Berkshire side will earn an estimated £90m after winning promotion.
But Wilson said: "Hopefully they will not spend millions of pounds but will instead build progressively."
Reading owner Anton Zingarevich has already said he has drawn up a shortlist of players he would like to sign over the summer, but Wilson has advised them to spend wisely.
"Promotion will be worth in the region of £90m to the football club over the next 12 months," Wilson, from Sheffield Hallam University, told BBC Berkshire.
"There are three models when you get promoted. You can go for the all-out like Portsmouth and look what happened to them.
"Or you can go for the more conservative approach like Blackpool and just pay off all your debt and [be] more prudent. Or you look at the Stoke City model of incremental building.
"If they can sign one or two players on slightly higher wages they may be competitive."
Reading earned promotion to the Premier League on Tuesday, following their 1-0 victory over Nottingham Forest.
Promotion guarantees them around £45m in television-related revenue over the next season, and the club could double that amount from other sources, such as gate receipts and commercial income.
But leading football agent Barry Silkman believes the Royals will need to spend some of that money to sign three marquee players if they are to stay in the Premier League.
"To stay outside the bottom three they need to sign two or three marquee names," Silkman told BBC Berkshire.
"The problem managers face when they go up is the question of, 'is your club good enough to stay up?'
"Blackpool kept all the salaries under £10,000 a week and they did not sign multi-million pound players and they spent very little on agents fees.
"What happened with Blackpool is they spent very little and went back down and lost a fair bit of money.
"Maybe if they had spent a few more million, or at least paid higher wages to get slightly better players, they may now still have been there. It's a catch-22 situation. There is no right way and there is no wrong way.
"They [Reading] need a striker who is a proven goal scorer at that level. They need a defender who has experience of the top level and the same with a midfielder. Reading have a good team and if they can add to that, stay in the league and keep adding to it year after year they can build from there."
Silkman also says members of Reading's squad will now look to renegotiate their deals following promotion, while several may also be entitled to automatic rises.
But he urged the Championship leaders to ensure they put contingencies into contracts should they be relegated next term.
"Some of the players may have an automatic rise in their contract if they win Premier League promotion," added Silkman.
"Others will begin negotiating new deals, or their agents will, and then others will be sold if the manager believes he has three or four or more players that aren't capable of keeping them in the Premier League. Everything is going to be different now.
"As a player you don't get carried away by just getting promoted to the Premier League and your wages are not going to rise to £40,000 a week.
"But what I think Reading will try and do with their current players is give them a new contract and put a clause in saying if they drop back down to the Championship and get relegated, their money drops back down to what they were getting paid before."