Southampton boss Adkins praises Morgan Schneiderlin
Last updated on .From the section Football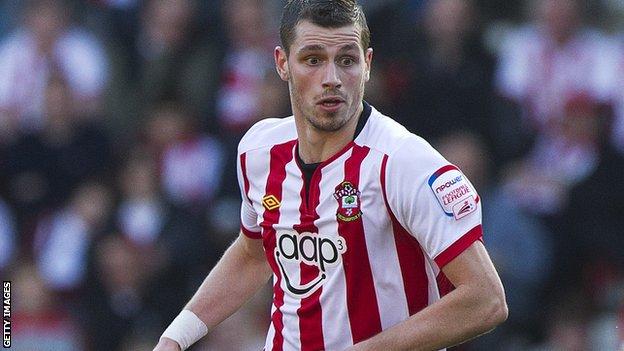 Southampton manager Nigel Adkins says Morgan Schneiderlin can become one of the best midfielders in the Premier League next season.
Saints are on the verge of sealing promotion to the top flight and Adkins believes the 22-year-old will flourish.
"Morgan has grown into one of the best midfielders in the Championship," Adkins told BBC Radio Solent.
"I know when we get to the Premier League he will be one of the better players in there."
Saints take on Middlesbrough on Saturday knowing a point will likely seal their top-flight return.
Adkins' side hold a five-point advantage over third-placed West Ham with two games to go, and their goal difference is also superior.
"Morgan is a very talented player who, like many players here at Southampton, works very hard," added Adkins, who says his side are still hopeful of winning the league.
"[We are] so near but so far and all the focus is on the Middlesbrough game. We are staying grounded, but promotion would be fantastic for the supporters.
"We want to get this football club back where it deserves, back in the Premier League. But we've got to earn the right to do that.
"Middlesbrough have play-off aspirations. We need to win the game and they need to win the game and the next game because we want to win the division.
"We have a winning mentality here and our objective is to win very game of football. That's what we'll be looking to do on Saturday."
For the promotion and relegation news as it happens in the Championship this Saturday - follow our new exclusive text commentary service Football League Live. It has fixtures, results, as-it-happens tables and regular reports from across the Football League. Saturday, 1400 BST, bbc.co.uk/sport