Bebe suspended by Turkish side Besiktas for 'indiscipline'
Last updated on .From the section Football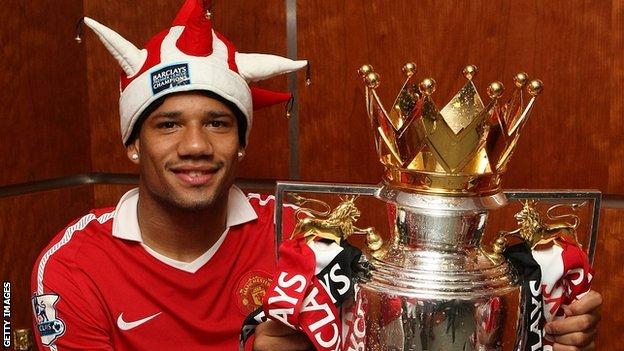 Besiktas will only decide whether to buy Bebe at the end of the season after suspending the on-loan Manchester United striker for indiscipline.
The 21-year-old was removed from the first team because of "disorderly conduct and undisciplined behaviour".
The Portuguese and two other players were photographed outside a nightclub before Monday's derby with Galatasaray.
"Coach Tayfur Havutcu will decide whether the suspension will be lifted next week," said the Turkish club.
The two other players - Sidnei and Julio Alves - were also suspended.
Bebe has made just three appearances for Besiktas this season after suffering a cruciate ligament injury at the start of the campaign following a one-year loan switch, a deal that includes the option of a permanent move.
"No decision has been made for the future of any player in our squad yet, and will not be made before the end of the season," a Besiktas spokesman told BBC Sport.
Bebe moved to Old Trafford from Portuguese club Vitoria de Guimaraes in August 2010 for a reported £7.4m but made just seven senior appearances for Sir Alex Ferguson's side last season, scoring two goals, including one in the Champions League.
Bebe had signed a five-year contract with Guimaraes in July 2010 but Ferguson moved for the attacker after apparently being alerted to his potential by former United assistant manager Carlos Queiroz.
The forward had been at Guimaraes for only five weeks and had not even played a game when Ferguson made his approach.
The Scot later admitted he spent less time scouting Bebe than would normally have been the case, as he was keen to beat other clubs, including Real Madrid, to the player's signature.
Last week United declined to comment on reports that authorities in Portugal are investigating the deal that took Bebe to Old Trafford.
Beskitas told BBC Sport they had not been contacted over that investigation.