Chris Webb urges Plymouth Argyle fans to show restraint
Last updated on .From the section Football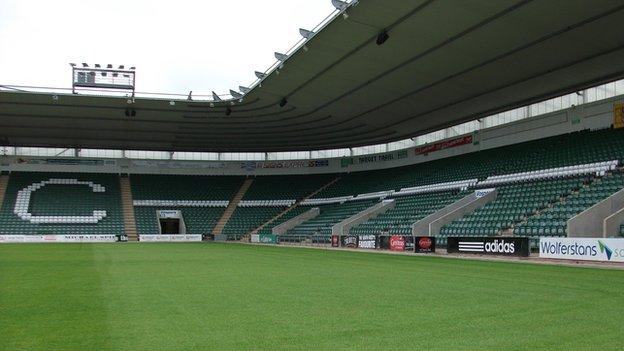 Plymouth Argyle president Chris Webb has called on the club's fans to show restraint if they secure their League Two survival on Saturday.
But an upturn in form following the takeover by James Brent has seen them rise up the table and a win over Oxford will secure their league status.
But Webb says the club could be fined if supporters invade the pitch.
"The club have this week been written to by the Football Association outlining the strong possibility of a fine if any supporters invade the playing area," Webb said.
"This focus has been heightened following an invasion at Reading during the week.
"In addition to this, we have been reminded by the police today that this is a criminal offence.
"After all we have been through we know the value of money and not throwing it away.
"I want to spend the whole summer pestering James Brent to buy us a striker, not to pay an FA fine," Webb added.
The club say players and management will address fans after the game if they ensure survival, but only if supporters stay in their seats.
For the promotion and relegation news as it happens in League Two this Saturday - follow our new exclusive text commentary service Football League Live. It has fixtures, results, as-it-happens tables and regular reports from across the Football League. Saturday, 1400 BST, bbc.co.uk/sport