Exeter City boss Paul Tisdale preparing for League Two
Last updated on .From the section Football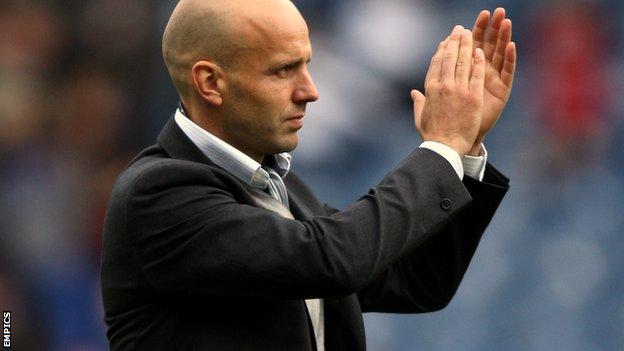 Exeter City manager Paul Tisdale says he is preparing for life in League Two.
The Grecians must win their last three matches and hope other results go their way if they are to have any chance of staying up in League One.
"We've been making preparations for about a year now," he told BBC Devon.
"We have to adjust our expectations because of the economic cycle we're in and the fact we're going to have to build a new side over the next two or three years."
He added: "We've done our very best to stay in League One, we've not conceded defeat.
"But as a club we know where we sit when all things are even and we've been making plans for the best part of 12 months."
Exeter have struggled financially this season, with crowds at St James Park dropping by 20% and the club forced to sell to ensure the books balance.
And Tisdale says City cannot compete financially with the big clubs at the top of League One.
"We have to live within our means," he continued.
"Whether it's this year or next year, at some point we're going to have to get back to a level-footing and back to a league that we are economically sound in, and that will be in League Two.
"Our job will be to build a new side and try and get back up again."
City could lose a host of first team players during the summer with many seeing their contracts coming to an end.
Allied to that, Tisdale has given professional deals to six of the club's youth team for next season.
"It was part of my brief when I started here six years ago that it was how I did my job, to give young players the chance to develop and gain assets which we can sell.
"Of course they need to be supplemented by senior players, some solid experienced players at the level we're playing at.
"Hopefully you have the opportunity to play these young players and they gain value and they gain experience.
"We've done it over the past 10 years and we need to keep doing it."
For the promotion and relegation news as it happens in League One this Saturday - follow our new exclusive text commentary service Football League Live. It has fixtures, results, as-it-happens tables and regular reports from across the Football League. Saturday, 1400 BST, bbc.co.uk/sport