Manchester City fans start campaign for Roberto Mancini
Last updated on .From the section Football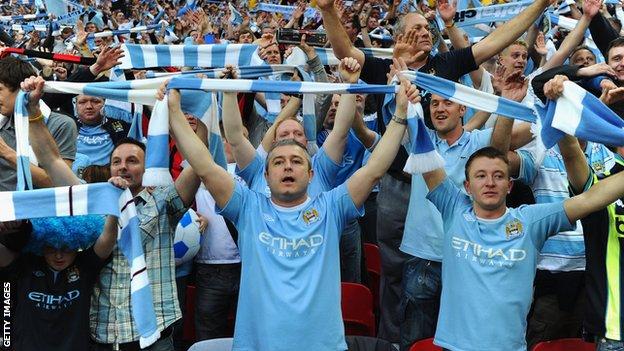 Manchester City supporters have started a campaign to show their support for manager Roberto Mancini.
The fans have set up a "Respect Roberto Mancini" petition and organised a campaign on Twitter urging the club to retain him as manager even if City fail to win the Premier League title.
Mancini has seen his side's challenge falter and they are now five points behind leaders Manchester United.
There has been speculation linking Real Madrid boss Jose Mourinho with his job.
Manchester City's 6-1 victory over arch-rivals Manchester United in October put them five points clear at the top of the league and they remained there until March, when a run of just one win in five matches saw their title hopes fade.
Mancini, who has one year remaining on his contract, has endured a difficult year after high-profile arguments with strikers Carlos Tevez and Mario Balotelli.
However, despite increasing speculation about Mancini's future, a group of Manchester City fans believe the Italian, who ended the club's 35-year wait for a trophy with last year's FA Cup triumph, is still the right man for the job.
"I'd be devastated if he left and a lot of City fans would be," said mcfcforum.com part-owner Andy Savage, whose website has helped with the campaign.
"At the moment he's not committing his future, so the campaign is to show our support. We'd love him to stay and the majority of fans want him to stay. He knows the fabric of the club and gets on really well with the fans."
The petition to keep the 47-year-old former Inter Milan boss has so far had more than 1,000 signatures.
"The campaign is to show support for what he's done as he has not been getting enough respect. We'd like him to at least see out the remainder of his contract, but ideally get a new one," added Savage.
However, Savage insists the fans' campaign is about showing their support, rather than criticising owner Sheikh Mansour, who brought in Mancini after sacking Mark Hughes in December 2009.
"It is not about criticising the owners or putting pressure on them," he said.
"Over the past few months, journalists have been having a go at Mancini and put pressure on him by saying his job is not safe. But the last thing we need is to be chopping and changing our manager.
"I can't see the owners doing it to be honest. They've brought him in, he's their man and I genuinely feel they've got a great relationship."