Yeovil Town's Andy Williams cool on contract talks
Last updated on .From the section Football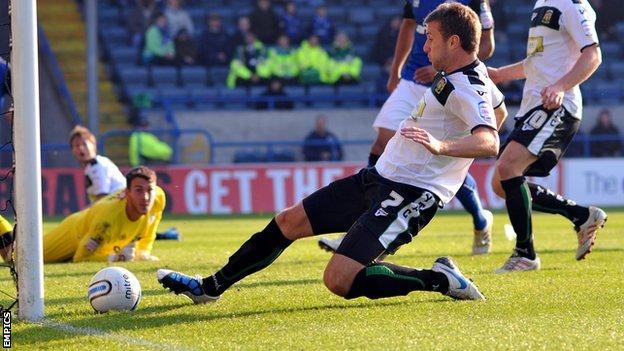 Yeovil Town striker Andy Williams says he will not rush into committing his future to the League One club.
The 25-year-old, who is the Glovers' top scorer this season, is out of contract at Huish Park in the summer.
Manager Gary Johnson has entered talks with several players but Williams is keen to keep his options open.
"It was nice of him to speak to me, although I haven't had any concrete offers yet," he told BBC Somerset. "I've got to mull over the interest."
Williams joined Yeovil from Bristol Rovers in August 2010 and has gone on to score 23 goals in 62 appearances.
"I've had a great two years here and I owe a lot to this club so I'm not going to take my decision lightly," he continued.
"I'm going to think everything through and see what's on the table and once everything is on the table I can make a decision from there."
However, Johnson is keen to tie up deals as soon as possible so he can start planning for next season's campaign.
"It doesn't work that we get an answer a week after we ask people," said the Glovers boss.
"Nobody's going to feel like I'm putting a gun to their head, but we need to go into the summer knowing who we've got to build around.
"The lads know the scale and the timings of it. I can't afford for people to wait to keep their options open."
For the promotion and relegation news as it happens in League One this Saturday - follow our new exclusive text commentary service Football League Live. It has fixtures, results, as-it-happens tables and regular reports from across the Football League. Saturday, 1400 BST, bbc.co.uk/sport