Kilmarnock stay 'first choice' for Dean Shiels
Last updated on .From the section Football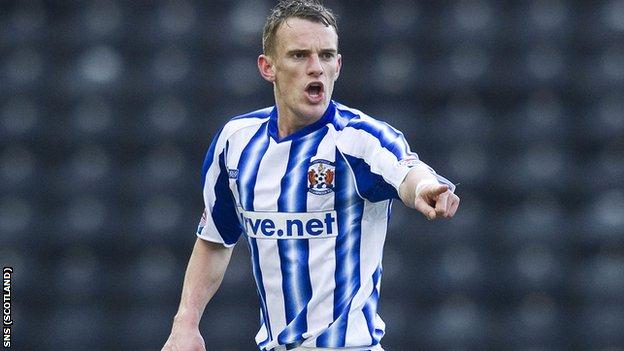 Dean Shiels has enjoyed his season at Kilmarnock so much that he may be tempted to extend his stay.
The 27-year-old forward, who has been nominated for Scotland's player of the year award, will be a free agent at the end of the season.
"Kilmarnock would be my first choice after the relationship I've built up with the players and fans," he said.
"I can't rule out a return to England or a move further afield but I've really enjoyed my football this year."
The Northern Ireland international was on loan from Doncaster during the first half of the season before terminating his contract with the Championship side and signing a short-term deal at Rugby Park in January.
And that choice was rewarded with a League Cup final victory over Celtic in March.
With his father, Kenny, in charge of the team, Shiels settled immediately and has scored 11 goals and pitched in with the same number of assists during his time in Ayrshire.
"My dad knows I've enjoyed my time here but it's a decision I'll make when the season is over," Shiels added on his future prospects.
"I knew the kind of football he wanted to play and I knew it would suit me.
"My wife is from Edinburgh and I have to take everything into consideration but I'm very happy at Kilmarnock and that will play a big part in my decision-making.
"Money was never an issue in January. I wanted to stay and finish the job I'd started with Kilmarnock.
"Obviously, I've got to support my family but I've never been one to let money influence decisions in my career."
Shiels said he was "honoured" and "surprised" to be nominated for player of the year, revealing that he had cast his vote for Rangers skipper Steven Davis, his international room-mate.