Celtic manager's tweets are his business - Charlie Mulgrew
Last updated on .From the section Football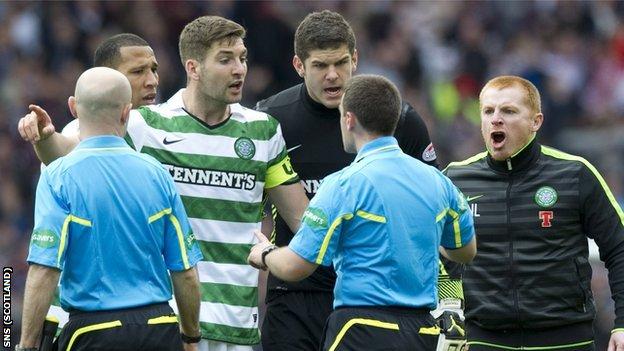 Charlie Mulgrew distanced himself from Celtic boss Neil Lennon's controversial use of the social media site Twitter to comment on refereeing decisions.
The PFA Scotland player of the year nominee rejected the idea that Lennon's recent tweet about decisions being "personal" was widely held by players.
"Whatever the manager tweets is up to him. We don't take any notice of that," said the versatile Celtic player.
"That's the manager's own view. We don't get involved in it."
Lennon is a high-profile user of Twitter and, after Sunday's Scottish Cup semi-final ended in controversy when Hearts were awarded a match-winning last-minute penalty, he engaged with users on his account.
Referee Euan Norris awarded Hearts a spot-kick when Marius Zaliukas's shot hit Celtic midfielder Joe Ledley's arm, then glanced team-mate Victor Wanyama's hand.
Neither player, seemingly, handled the ball with intent and both were close to Zaliukas when he blasted his effort at goal from just outside the box.
Lennon tweeted: "Referee told players he thought Wanyama handled...feel so sorry for players and fans..I think it's personal myself."
The Celtic manager was at Hampden on Thursday afternoon to contest two charges relating to his reactions to decisions made by officials at games against Kilmarnock in the Scottish Communities League Cup final and Rangers at Ibrox.
And Lennon has also been asked by the Scottish Football Association to explain comments made about the appointment of a referee ahead of a Celtic match at St Johnstone.
"It's just the person he is, he's got a lot of passion for the game and for Celtic," added Scotland international Mulgrew.
"It's hard to take that away from him. That's the type of manager he is and I don't think there is any changing him.
"Different people react in different ways; that's the way that he does it.
"Sometimes a big deal is made out of not very much.
"Hopefully he doesn't get punished too heavily."
Scottish Premier League winner Mulgrew is up against Dundee United striker Jon Daly, Rangers midfielder Steven Davis and Kilmarnock's Dean Shiels for the players' player of the year award.
"It's great to be nominated. It's a great honour," he said, before thanking his manager for his role in developing his career.
"He has shown tremendous belief in bringing me back here [from Aberdeen] and having faith in playing me in different positions.
"He has shown trust in me and has given me confidence."