Barcelona's Messi v Real Madrid's Ronaldo
Last updated on .From the section Football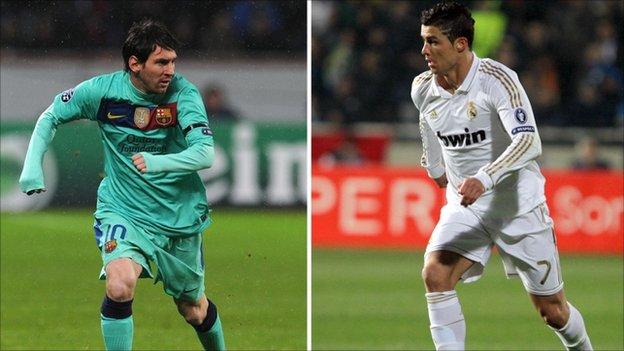 The simultaneous presence of two players as dazzlingly prolific as Lionel Messi and Cristiano Ronaldo is unique in the history of their sport.
Both players have hit 41 goals this season, they may well add more when the latest instalment of their rivalry is played out at the Nou Camp on Saturday night.
Real Madrid top the La Liga table on 85 points, with Barcelona four points back. Each team has five games to play.
Former Chelsea and Barcelona forward Eidur Gudjohnsen, an opponent of Ronaldo and a team-mate of Messi, is as well-placed as any to deliver judgement as they prepare for the most pivotal el Clasicoof the season so far.
"They are very different footballers and very different characters," Gudjohnsen told BBC Sport. "It is incredible the standard that they are setting. They have taken the game to a different level, reaching standards that very few of us have seen anyone reach."
Here, Gudjohnsen compares the men who are rewriting the record books.
Dribbling, skill level, technique
Messi
With feet as sensitive as a pick-pocket's hands, Messi has taken close control to new heights. His bewildering repertoire of faints and swerves, sudden stops and demoralising spurts leave defenders dumbfounded time and again.
Gudjohnsen: "His control is the best I have ever seen, it is truly breathtaking." 10/10
Ronaldo
His stepover has become a thing of myth but rarely have we seen a player of such skill, run at such pace and with such power. An incredible recipe for success all wrapped up in one player.
Gudjohnsen: "His speed is what takes him beyond players but his close control is excellent." 8/10
Heading ability
Messi
Despite his diminutive stature, Messi has and will continue to score goals with his head - most notably against Manchester United in the 2009 Champions League Final in Rome.
Gudjohnsen: "His size does is not a problem. You can't afford to underestimate him in the air, if you do he will find the net." 6/10
Ronaldo
The Real Madrid forward is the complete athlete - a modern phenomenon. Standing at 6ft 2in, Ronaldo is a threat in the air, although doesn't score as many as he might because he takes so many free-kicks.
Gudjohnsen: "Ronaldo is an incredible threat in the air, his athleticism and speed makes him a player you have to watch." 8/10
Free-kicks
Messi
The Argentine is more than capable of producing exquisite, delicate free-kicks but he perhaps lacks the variation that his great rival can muster.
Gudjohnsen: "He has so much ability and such magic in his feet that he can do anything with a dead ball." 7/10
Ronaldo
Arguably the most dangerous free-kick exponent in world football - Ronaldo's trademark dipping, swerving strikes are a blend of grace and devastation.
Gudjohnsen: "He has scored some incredible free-kicks in his career. When he gets it right they are unstoppable." 9/10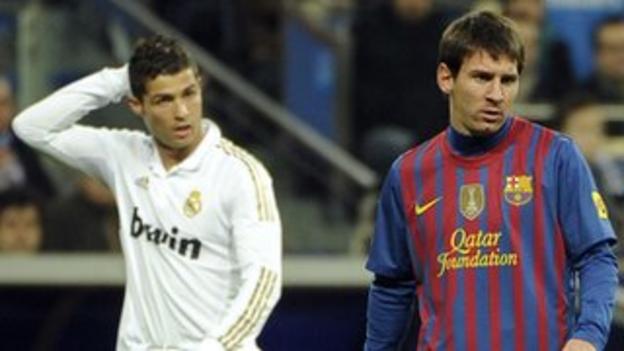 Team players?
Messi
The ultimate team player. Much of his success has been his ability to dovetail so beautifully with the likes of Xavi and Andres Iniesta. His ability to apparently read his team-mates' minds and his selflessness in dragging players away with runs is a key part of his success.
Gudjohnsen: "He is the perfect team-mate. Quiet, dignified, brilliant to play with." 9/10
Ronaldo
One of the few criticisms that have been levelled at the Portuguese during his career has been tendency to take the impossible shot with a team-mate better placed. Ronaldo has occasionally been jeered by Real fans because of this.
Gudjohnsen: "When you have that level of talent, perhaps it is understandable that you think you can do it all?" 6/10
Goals
Messi and Ronaldo
The statistics speak for themselves. Since his £80m transfer from Manchester United in the summer of 2009, Ronaldo had scored 138 times in 136 appearances for Real Madrid. In that period, Barcelona's maestro delivered 161 goals in 159 games. How can you separate them?
You can't, according to Gudjohnsen. "To say one is better than the other is very difficult because the two of them seem very similar in the way they are scoring goals. They are reaching standards that very few of us have seen anyone reach in recent years." Both 10/10
Conclusion
Comparing two of the greatest players to grace the game is no easy task, but Messi just has the edge. Ronaldo has been accused of disappearing in the matches that really matter and, while that is not always the case, it is not a criticism that can be levelled at Messi. There is a sense that the diminutive Argentine is something extra special, a player whose like we may never see again but it's close, very close.
Gudjohnsen: "It is so hard to say one is better than the other but Messi narrowly has the edge. I have never seen anything like him. We'd be lucky to be watching one of them. To be entertained by both is a blessing."
Totals
Messi: 42/50
Ronaldo: 41/50