Steve Cotterill wants end to Nottingham Forest uncertainty
Last updated on .From the section Football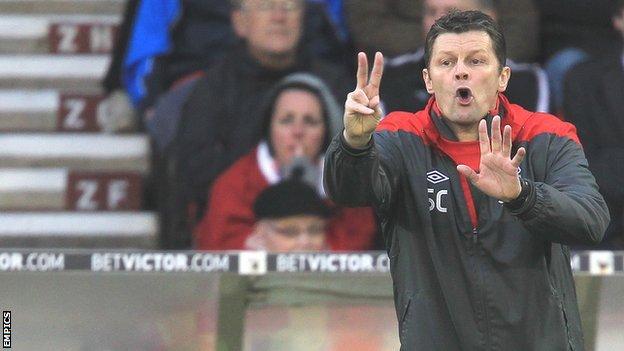 Nottingham Forest boss Steve Cotterill says uncertainty surrounding the club's ownership is hindering their progress and he needs support from the board.
Forest have ensured their Championship survival with two games left but the ownership situation is not yet resolved following the death of Nigel Doughty.
He told BBC Radio Nottingham. "I've done what I was asked. It's now what happens to the running of the club.
"Whether we get a new owner or keep our existing ones, I'll need some backing."
Forest endured a turbulent season in which they have been in and around the relegation zone following a disastrous start and the resignation of Steve McClaren in October.
Off the pitch, the tragic death of Doughty put the club's struggles into perspective.
But Cotterill said the prospects of improving for the next campaign are being hampered as many of his key players are out of contract.
Cotterill added: "I can't plan anything - that's the thing.
"The only thing I am doing at the moment is talking to agents and our own players' agents because, whilst we want to look further afield to strengthen the squad, we also have to look right under our noses. There are players here that we want to re-sign."
For the promotion and relegation news as it happens in the Championship this Saturday - follow our new exclusive text commentary service Football League Live. It has fixtures, results, as-it-happens tables and regular reports from across the Football League. Saturday, 1400 BST, bbc.co.uk/sport