Rangers: Ally McCoist fears liquidation unless quick takeover
By Alasdair Lamont
BBC Scotland
Last updated on .From the section Football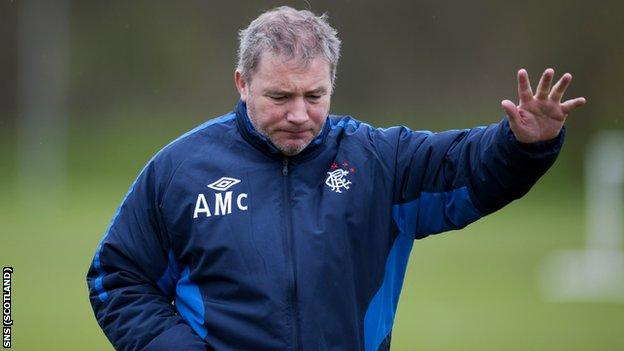 Manager Ally McCoist says Rangers' situation must be resolved before the end of May amid fears of liquidation.
Bill Ng withdrew his bid to buy the administration-hit club, citing "serious concerns" over the deliverability of shares on offer.
"It's only my opinion but I don't think we can wait until anything like the end of May," McCoist said.
Bill Murray has since made an offer that the administrators will proceed with on Monday if it is not bettered.
McCoist added: "It's not up to me to have a preferred bidder. I have to remain completely and utterly open-minded about it."
Administrators Duff & Phelps have been running the Scottish Premier League club since 14 February and have yet to name a preferred bidder, a state of affairs that is causing unrest among the club's support.
Paul Clark, of Duff & Phelps, told BBC Scotland on Friday: "The fans have been fantastic.
"I can understand their anxiety about why we couldn't just accept a preferred bidder.
"The truth is if there wasn't a bid that was acceptable, there wasn't a bid to proceed with."
Paul Murray's Blue Knights were in pole position to be named preferred bidder until last weekend when they learned that their partner in the bid, Ticketus, favoured Ng's terms to have them on board.
And Sale Sharks owner Brian Kennedy made a new, verbal offer that Duff & Phelps said on Thursday "would not be capable of acceptance".
McCoist says he would have no qualms about US businessman Miller - the only bid still on the table - taking over.
which would create an "incubator" company while Duff & Phelps bid to take the club out of administration through a Creditors Voluntary Arrangement (CVA).
The US businessman has suspended his offer until Monday to allow other bidders to make their intentions clear.
"The time has come for all interested parties to either put up or shut up," he said.
"Everyone involved has had their '15 minutes of fame'.
"Let's save Rangers. There is no time left."
That sense of urgency was echoed by Clark, who has given prospective buyers the weekend to make a better, unconditional offer than Miller's.
"As matters stand, we do have a bid from Mr Miller that could be proceeded with early next week and we would have to proceed with that if there is no alternative prior to Monday," he said.
"The bid is conditional in some respects but, in terms of being acceptable for the exclusivity arrangement, we are content that we have arrangements that would work."
Some of Miller's conditions rest upon the SPL and the Scottish Football Association looking favourably on his plans to put Rangers into an "incubator" company - in effect a newco but falling short, Miller claims, of liquidation.
Clark, when asked how he thought the football authorities might view this, said: "He is an experienced businessman.
"He has had discussions with the football authorities.
"I am assuming he is proceeding on the basis that he knows what he is doing here."
Clark moved to allay McCoist's concerns about liquidation and his squad.
He added: "I don't think that liquidation will occur.
"Ally McCoist needs to prepare for the new season and we are mindful of that.
"We are looking to conclude the process as soon as possible in the close season."
Asked for his reaction to news of Bill Ng's withdrawal, McCoist said: "They have obviously weighed up all the options and decided it's not for them.
"The only thing that I wish for is somebody who has the club's best interests at heart to take it over.
"I would have no problem with anybody that I've spoken to taking it over because I do believe they have the club's best interests at heart.
"My main concern is that we get a positive result. That's all that matters."