Liam Sercombe expects Exeter City changes
Last updated on .From the section Football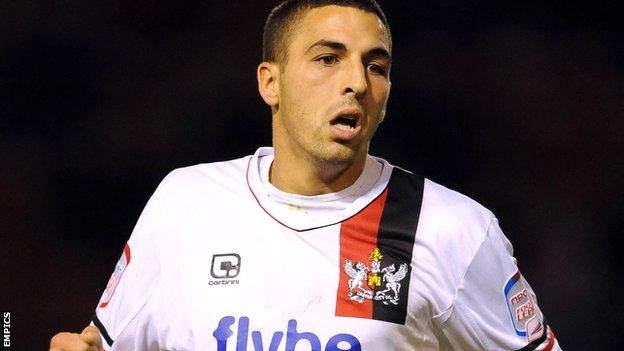 Exeter City midfielder Liam Sercombe says he expects "a lot of changes" at St James Park over the summer.
The 21-year-old is one of City's most experienced players, with more than 200 appearances for the Grecians, and has scored three goals in the last two games.
"I think there's going to be a lot of changes next year," Sercombe told BBC Radio Devon.
"We've got to try and keep hold of some of our players," he added.
"I'll be one of the most experienced here, even though I am 22 next week, so it's a big responsibility for me, but I like that.
"We've signed a few young lads and I think that's going to be the case next year because we haven't got the money like other clubs to buy players and pay for their wages."
Sercombe's season has been dogged by a number of injuries, and his recent goal-scoring form has coincided with a return to full fitness.
"I'm glad to have a good end of the season for me personally because it's been frustrating for me, it's just unlucky for our season and it's been frustrating for all of us."
And Sercombe admits that it is unlikely that City will get themselves out of the relegation zone before the end of the season.
"It's a big struggle for us, nine points to play for with three games left it's looking very doubtful.
"We'll go into these games wanting to win all three no matter what.
"Even if we do get relegated, say next week, we'd still give it our all on the last day because that's the sort of club we are."