Reading takeover will be completed next week - Sir John Madejski
Last updated on .From the section Football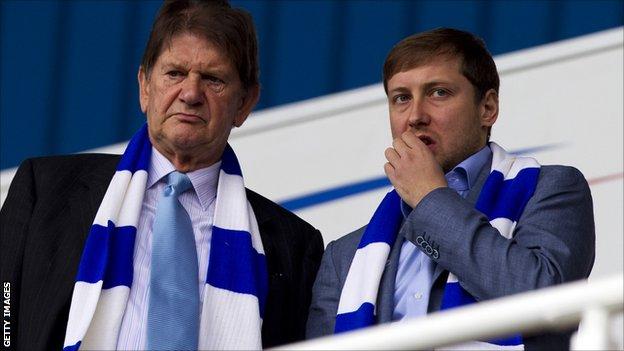 Reading chairman Sir John Madejski says the takeover of the newly-promoted club by Russian tycoon Anton Zingarevich will be completed "within a week".
The buyout by Zingarevich was due to be completed in March but has been delayed while the Football League, and now the Premier League, look into the deal.
"With all intents and purposes the deal will be completed next week," Madejski told BBC Radio Berkshire.
"But the League are still going through the fit and proper persons test."
It is nearly three months since Madejski - who has owned Reading for 22 years - announced he had agreed to sell 51% of the club to Thames Sports Investment led by Zingarevich.
The deal has taken longer to approve, but Madejski has calmed any fears that there is a hitch.
Initially just the Football League needed to approve the deal but following Tuesday's promotion, the Premier League have now also had to ratify the deal, meaning a second set of tests.
"We want to make sure that the deal is completely watertight for the sake of the club going forward. But that should all pan out," added Madejski.
"All these questions will be answered substantially and at the end of the day the Premier League are not going to allow people into the league unless they (Zingarevich) are fit for purpose and indeed that they've got the money to do what they say they are going to do.
"So all that bodes well for Reading football club, let's dot the i's and cross the t's, let's make sure, perfectly sure that what's going forward is going forward and so therefore everybody's happy.
"I'm sure it's going to happen but I think it is right and proper that the league have got to be very circumspect because we have seen some of the fiascos that have happened to football clubs over the past few years.
"Before it used to get waved through with a nod and wink and now they have to make sure people are going to do what they say they can do. I think it will happen within a week. "
Zingarevich, 29, is the son of Russian billionaire Boris - who was linked with an aborted bid for Everton in 2004 - and was educated in Berkshire as a child.
He used his first video interview on Thursday to reiterate his desire to expand the 24,500 all-seater Madejski Stadium.
On Tuesday, he told BBC Radio Berkshire: "I think there is a lot to develop here but the infrastructure that is already in place is key. We have already started looking at upgrading the academy and the training facilities.
"If we stay up [after] the first year then we will upgrade the stadium. There are a lot of things to do but there is a lot of potential."
For the promotion and relegation news as it happens in the Championship this Saturday - follow our new exclusive text commentary service Football League Live. It has fixtures, results, as-it-happens tables and regular reports from across the Football League. Saturday, 1400 BST, bbc.co.uk/sport