Terry Connor has 'enjoyed' being Wolves manager
Last updated on .From the section Football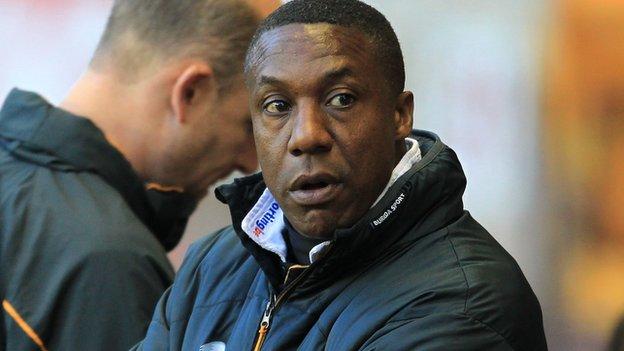 Terry Connor says he has "thoroughly enjoyed" his stint as Wolves manager, despite the club sitting bottom of the Premier League.
Wolves are eight points from safety with four games left, but Connor is keen to carry on as boss next season.
"It has been a tough learning curve for everybody, but one that I have thoroughly enjoyed," he told BBC WM.
"I knew when I took over it would be very difficult. Given the chance I would want to continue."
He added: "I knew that a lot of the aspects would be new to me and I would face new challenges and I have tried to meet them as honestly as I possibly can."
Connor has taken just two points from a possible 27 since taking over from Mick McCarthy in February.
And with the club adrift at the bottom of the table, he was downbeat on their chances of survival.
"Being realistic, we need to win at least three, maybe four of the games," he said.
"It's a tall order, something we haven't done all season. If results go against us and we go down, of course we will be hurt but we will have to deal with that quickly and move on for the good of the club."
While he admitted he has "no idea" whether he will continue as manager, he reinforced his belief that the club must move on quickly if they are relegated.
"Anybody connected with Wolves will feel the hurt, and it will be tough for a spell," he added.
"Once that does occur and we've gone through that process we will have to come out the other side and start planning for next season.
"We will have to think about things that we have done well, think about things that we haven't done as well and what we can improve on and make sure those lessons are learned and put into place for the following season, whether I'm here or whether the players are here."
Meanwhile, Connor says that second-choice goalkeeper Dorus de Vries is ready to make his Premier League debut against Manchester City on Sunday.
De Vries will step in for Wayne Hennessey, who was ruled out for six months with a knee injury earlier this week.
"He's a first-team goalkeeper. He knew Wayne was number one and he would have to fight for his place. Every day he has been out there training and working," said Connor.
"He has been a very good number two for us and this is his chance, this is what he has been training for.
"I wish him well, and I'm sure everybody else wishes him well."