Roberto Di Matteo stays relaxed over his Chelsea future
Last updated on .From the section Football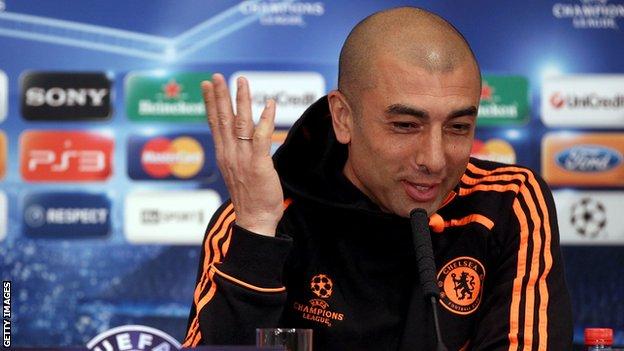 Chelsea interim manager Roberto Di Matteo insists he will decide about his long-term future at "the right time".
But Di Matteo, 41, said that he was in no rush to clarify his future.
"There's time and space for everything. When the right time comes to sit down and think about it, I will," he said.
"At the moment, I'm not thinking about anything like that. It's business."
Di Matteo has overseen 10 wins from 13 games in all competitions since taking charge.
He added: "Whatever happens, happens. I'll be fine. That's not a problem.
"It's not about me. I feel a great responsibility towards this club and supporters and players."
Di Matteo has also defended his defensive tactics in Chelsea's 1-0 victory over Barcelona at Stamford Bridge.
The Blues received some criticism for their style of play and the way they tried to stifle their opponents.
"Everybody seems to have an opinion about ourselves. We just have to try to do our job," he said.
"Ultimately, we have to look at ourselves and what's the best way for us to win and go through.
"You know how many players, how many teams and managers have tried with different tactics to play against Barcelona?
"They will always create chances, whatever you do, because of the sheer quality that they have in the team, the individual quality between the players.
"Many other clubs did exactly the same against Barca. But we managed to win."