Rangers: Paul Murray's Blue Knights prepare new bid
By Alasdair Lamont
BBC Scotland
Last updated on .From the section Football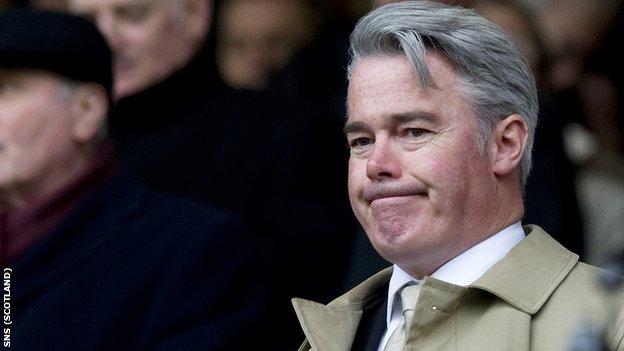 Paul Murray has told BBC Scotland his Blue Knights consortium will be working over the weekend to table a fresh offer to take control of Rangers on Monday.
Murray's group, with Ticketus as partner, had been working towards preferred bidder status before stepping back last week.
Ticketus, who funded Craig Whyte's takeover of Rangers last May, were also in discussion with Bill Ng.
But the Singaporean withdrew his offer, leaving Bill Miller as sole bidder.
American at the beginning of next week and he had urged other prospective owners to "put up or shut up" by then.
Brian Kennedy, the Sale Sharks owner who had a second, verbal bid rejected by administrators Duff & Phelps, told BBC Scotland on Sunday that he had been helping the Blue Knights with their bid - but not financially.
"I always said I would not compete with the Blue Knights. That's still my position," he said.
Joint administrator Paul Clark said of the Blue Knights' renewed attempts to assume control of the Ibrox club: "I very much welcome it.
"We've never ruled the Blue Knights out, it was them of course that stepped back from the position earlier in the week.
"We'd had an agreement with them in relation to a financial commitment on exclusivity terms and there was a decision, in fact by Ticketus as opposed to the Blue Knights consortium, to withdraw that financial commitment.
"That was a real setback at the time because had it not have been for that withdrawal of financial commitment, we were about ready to name them as the preferred bidder.
"Another week's gone by, it unfortunate but [I'm] delighted to have Paul and the guys back in the frame."
With Miller's offer seemingly the only live bid, Duff & Phelps had indicated they would have no option but to pursue a conclusion to negotiations with the American.
However, a new Blue Knights offer would give the administrators a choice to make.
Murray has maintained throughout his desire for Rangers to achieve a company voluntary arrangement and avoid liquidation, with
"I've made it clear that we would still require, as part of them re-joining the bidding position, that they would need to provide a financial commitment in relation to an exclusivity fee," added Clark. "We think it's essential for that commitment to be shown.
"What we don't want is to have one preferred bidder chosen and them have no commitment to move forward from a monetary viewpoint and more particularly in a position where they can actually either chip away on the price or change fundamental terms.
"That was the real purpose of it and it remains the purpose of it. I think that that's well known by Paul and his team.
"It would become available for the creditors at a later date so it's simply a deduction from a later price. Effectively, it's a part-payment or a payment up front for the price that they pay eventually."
Miller claimed his vision for an "incubator" company would avoid liquidation but warned his plans were dependent on the Scottish football authorities not imposing further sanctions on the club.
Rangers have already been deducted 10 points for going into administration and the Scottish Premier League will later this month discuss new measures for clubs who suffer insolvency events and those who relaunch as new companies.
The club also await the Scottish FA's ruling into alleged breaches of seven rules, while the SPL are expected to investigate how Rangers paid players in the previous decade - the issue that is at the heart of an HM Revenue and Customs tax tribunal.