Rangers manager Ally McCoist says club punishment must be fair
Last updated on .From the section Football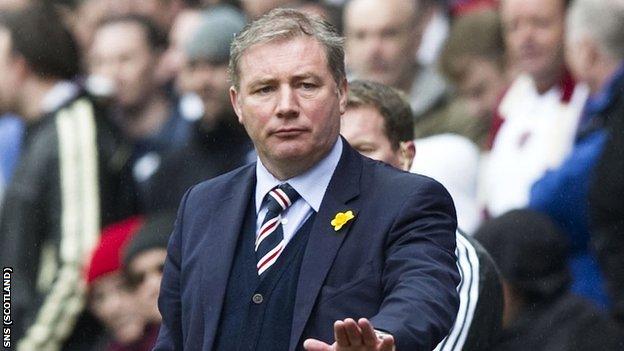 Ally McCoist admits Rangers "are in the wrong" as they face up to potential disciplinary action but the manager has urged the authorities to be "fair".
Rangers await the Scottish FA's verdict into alleged rule breaches.
And there may be further investigation into the club's conduct relating to how players were paid over the last decade.
"We are in no position to make demands to anybody, least of all the SFA," said McCoist following the 3-0 win against Hearts at Tynecastle.
"We are in the wrong so we have to go and abide by the decisions that are taken upon us.
"We're just hopeful that the powers that be are - I'm loathed to use the word sympathetic - but realistic of the situation.
"A lot of the problems that we're in aren't down to the club, the majority of problems that we're faced with at the moment are down to individual mistakes and individual errors within the club.
"And we can only hope that the SFA or the SPL are, not lenient as such, but are fair with us because we are in the wrong and we deserve to take whatever we get but we just hope that there's a bit of fairness about the whole thing."
The protracted process of appointing a preferred bidder to take Rangers out of administration could accelerate next week with Paul Murray's Blue Knights and keen to assume control of the club.
Murray wants to achieve a company voluntary arrangement, where creditors would accept a fraction of the amounts they are due, while Miller is known to favour a hybrid takeover that involves transferring assets to a new company and trying to achieve a CVA with the existing company.
"Hopefully we can push things forward," said McCoist.
"We need to get the ball rolling, Monday can come soon enough. The most important thing is we do get a suitable resolution. It has to be sooner rather than later.
"What an ideal situation for me was and always has been and always will be is the same for the majority of fans and that would be to come out of administration through a CVA."
Meanwhile, McCoist would like to offer a new contract to Andy Little, who netted in the 3-0 win at Hearts.
"Andy Little has had a heck of a tough time with injuries [and has] come back from serious career-threatening injuries," added the manager.
"He will always make something happen. He's chipped in with more than his fair share of goals already this season.
"I'm very, very hopeful that we can get him something offered.
"I don't think anyone can deny that we deserved the victory.
"I definitely thought we were worthy of the three points."