Barcelona 1-2 Real Madrid: Pep Guardiola concedes title
Last updated on .From the section Football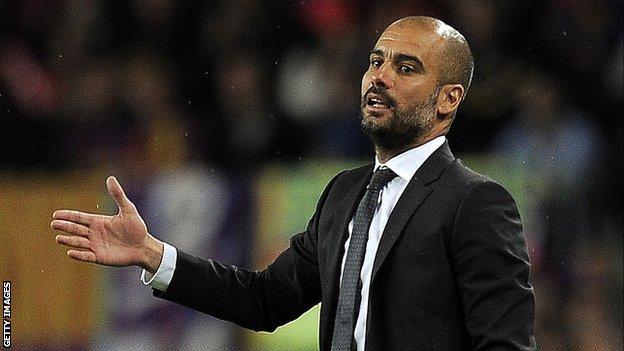 Barcelona coach Pep Guardiola conceded the title to Real Madrid after a 2-1 defeat by their arch-rivals left the Catalan club with a mountain to climb.
Cristiano Ronaldo fired the winning goal as Real moved seven points clear of Barca with four games remaining.
"We have to congratulate Madrid for their win and the title that they have also won tonight," said Guardiola.
"We created chances but it was not our night, sometimes that happens against such a good opponent as Madrid."
Real took a first-half lead through Sami Khedira but Barca equalised through substitute Alexis Sanchez after 70 minutes.
Parity was short-lived, however, as Real launched a lightning counter-attack from which Mesut Ozil set up Ronaldo to fire a goal that puts Real within touching distance of their first title since 2008.
"Although there are still points at stake and we must be respectful, we have taken a giant step," said Real captain Iker Casillas.
"We played as a team. Cristiano did a fine job but all 11 did well. We worked well from start to finish although we suffered when they equalised. But we responded and got the win."
Real's victory was their first in eight league Clasicos and inflicted Barca's first home defeat in 55 games in all competitions.
"We have struck a very significant blow but it's not yet decisive," said Real midfielder Xabi Alonso.
"Of course it's an important step towards the title but now we have to see it home.
"Cristiano's goal, coming straight after they levelled, broke their stride and that was fundamental.
"We controlled the match perfectly. It was a great performance, a fantastic result and I am very happy."
Both teams now turn their attention to their crucial midweek Champions League semi-final second legs.
Real Madrid will seek to overturn a 2-1 deficit against Bayern Munich on Wednesday, while Barcelona host Chelsea on Tuesday trailing 1-0 from the first leg.
"We're not going to retain the league title, and now we have to focus on the Champions League," added Guardiola.
"It won't be simple, we have to find the way to attack Chelsea, and we have to try and forget today's game."