Trouble ahead as cooperation lacking in corruption saga
By Steve Vickers
BBC Sport, Harare
Last updated on .From the section Football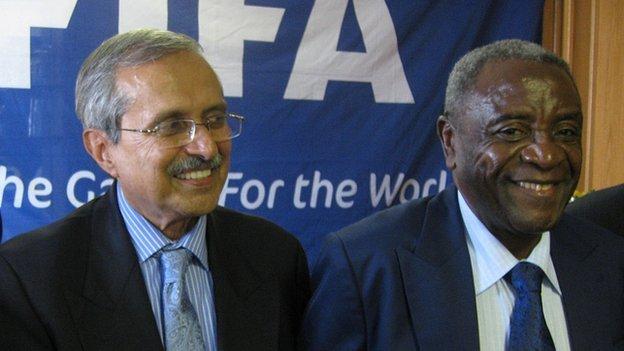 Some of the Zimbabwean players facing allegations of match-fixing have failed to comply with requests to give evidence.
A total of 98 players and 17 officials are accused of accepting money to lose games on national team tours between 2007 and 2009.
The allegations have rocked Zimbabwean football, as players under investigation have been barred from playing for the national team until their names are cleared.
"Some of the others [players] have not been cooperative," said Justice Ahmed Ebrahim, chairman of an independent committee that has begun conducting hearings with the players.
"We have faced obstacles from certain clubs who may have told players not to respond."
Speaking at a news conference, Justice Ebrahim said that players and officials who refuse to give evidence will face the full weight of Fifa's statutes, which include a fine of up to $10,000 and empower the committee to reach a verdict using other evidence.
Justice Ebrahim said that the committee, which was set up by the Zimbabwe FA, expects in the coming week to release a list of around 30 players that it believes are innocent of the allegations and should be exonerated.
He also revealed that while committee was hoping to finish its work by the end of April, it is - in fact - going to take much longer.
"We have had numerous meetings. We are doing our best, but there is still a long way to go," he said.
"We are well advanced in our work, and we have a good idea of who the ringleaders are, but there are people externally that we need to talk to.
"Corruption and dishonesty in sport is a cancer, and we need to play our part in combating such activity."