Welsh champions The New Saints seeking FA Cup place
Last updated on .From the section Football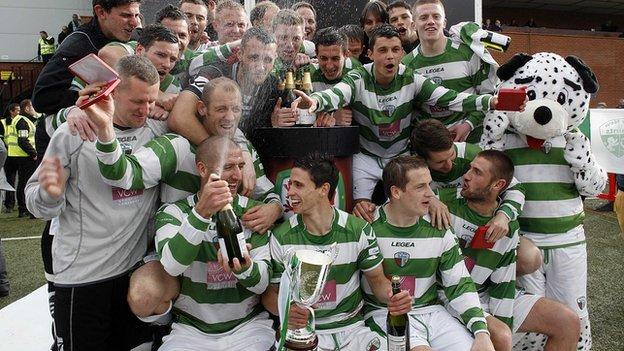 The New Saints chairman Mike Harris believes they should be allowed to play in the FA Cup next season.
He feels they should join Welsh exile sides Newport, Wrexham and Merthyr, who played in the English league pyramid, FA Cup and the Welsh Cup this year.
"We thought it only fair... that we try to compete in the competitions they compete in as well," said Harris.
"We're not the unique ones in this - I would imagine a couple of other Welsh Premier clubs have applied as well."
The Football Association has confirmed an application from TNS has been received, which will be processed "in due course".
TNS beat Bangor City 5-0 to win the Welsh Premier title at the weekend and can make it a double if they win the Welsh Cup final against Cefn Druids on 5 May.
The Football Association of Wales invited the six Welsh clubs playing in the English system to participate in this season's Welsh Cup following a 16-year absence.
Swansea City, Cardiff City and Colwyn Bay turned down the chance, but Blue Square Bet Premier clubs Wrexham and Newport, plus Toolstation Western League side Merthyr accepted and could be eligible to play in the Welsh Cup again next season.
Wrexham, Newport and Merthyr also played in the FA Cup and Saints feel that if those clubs can enter both knock-out competitions then they have a right to enter the FA Cup as well.
However, the entry requirements for next season's FA Cup state that new entrants must have played in the FA Trophy or FA Vase this season to be considered, while Saints' artificial pitch could also fall foul of regulations.
Applications to play in the Football Association's knock-out competitions had to be in by 1 April and Saints have applied for entry into both the FA Cup and the FA Trophy.
No other Welsh Premier clubs have applied to the FA for entry.
Harris contends that having the exiled clubs back in a Welsh club competition should pave the way for other Welsh-based clubs to enter the FA Cup.
He said: "Obviously [with] the inclusion [in the FA Cup] of the exile clubs like Wrexham, Newport, Merthyr in our club competition, we thought it only fair and equal that we should try to compete in the competitions they compete in as well.
"The Welsh Cup and the FA Cup have similar status, both get into Europe.
"I don't quite see the English system as a higher platform, I see it as an equal platform, but with a bigger population and bigger crowds.
"Yes we're a business and as a business they've included the likes of Wrexham and Newport into our competition which gives them an advantage because they play in the FA Cup.
"To balance that off and so we can compete on equal terms, we've chosen to take the decision to compete in the FA Cup.
"We've clearly stated we have no interest in the English place in Europe should we win the competition.
"We've declared that we don't want that place and we wouldn't want to be considered if we won the competition to qualify for that place, just like we hope that the FAW wouldn't give one of our cherished places to an English-playing club if they were to win the Welsh Cup.
"I spoke to several chairmen probably four or five months ago and I believed several other clubs were going to take the same approach.
"I'm not sure what they ended up doing. I wouldn't be surprised if there's not three or four other clubs who've applied as well.
"Football is a business and currently Welsh Premier clubs are having to compete against teams that have access to money playing in competitions over the border, such as Wrexham, such as Newport, such as Merthyr.
"So to balance that up we should be able to compete in the same competitions as them. It's just simple, equal rights."