Carl Fletcher 'proud' as Plymouth Argyle avoid relegation
Last updated on .From the section Football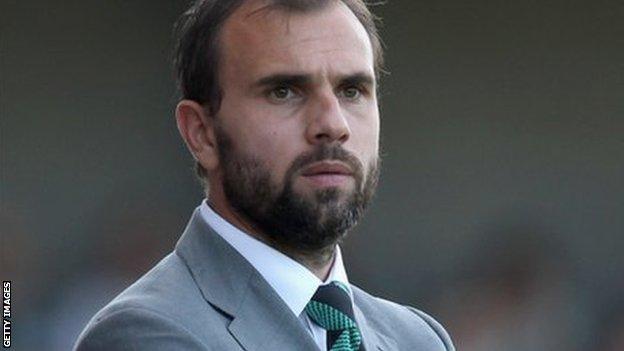 Carl Fletcher says he is 'immensely proud' to be Plymouth Argyle manager after saving the club from relegation.
The 1-1 draw with Oxford saw them mathematically safe in League Two after a season which started with one point from their opening nine games.
The club, which was rescued by businessman James Brent, has only lost once in their last eight matches.
"I'm immensely proud to be called manager of such a great football club," Fletcher told BBC Radio Devon.
He added: "For the ones who've been through it all, it's been a really tough few years.
"It was important we did what we needed to do and full credit has to go to the players."
Fletcher believes the Plymouth players have revitalised the side which had suffered two successive relegations.
"The players showed with their performances and the way they go about things that they've put a pride back in the shirt," said Fletcher.
"That's not been here for a few years. The fact they go out each and every day to work hard and do the right things, that's a testament to the kind of people and kind of characters they are."
Fletcher says he is even more proud to have proved the club's doubters wrong.
Argyle were in administration for much of 2011 and fielded mainly a youth team at the start of the season, before James Brent helped finance a squad which has performed well since Christmas.
"James Brent stuck by me but you see teams that have changed managers and it's not worked out the way they would have liked," said Fletcher.
"What we've got in that changing room is very special and you don't see that often throughout your football career.
"Nobody gave us a chance, everyone wanted to see us go down.
"It was 'we don't want to travel to Plymouth so we'd rather see them go' and 'who do they think they are saying they're a big club'. But it being a young manager and a young team, it brought everyone together and it's a real unit.
"I'm so pleased because the pressure that's been on us has been immense."