Man Utd and Man City seasons set up 'amazing derby'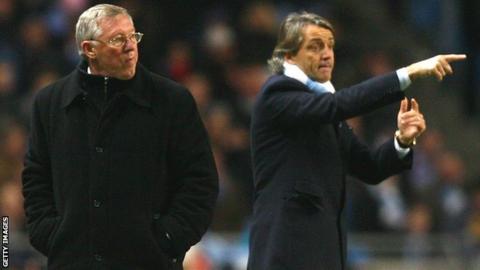 In a season which began with the Manchester clubs at Wembley for a Community Shield derby, perhaps it was inevitable that City's and United's seasons would be defined by their meeting on Monday.
Back in August in London, United came from behind to beat City in injury-time, an outcome which may end up telling the tale of the entire campaign.
The result did not spoil City's league start, though, as they scored 15 goals to win their first four games, including smashing five past Spurs at White Hart Lane.
United matched their rivals, eclipsing City's result against Tottenham by thrashing Arsenal, underlining the widespread view that 2012 would see a Manchester team take the title.
The 8-2 victory over the Gunners helped United lead the table until October and it looked like business as usual at Old Trafford, until a draw at Liverpool let City in.
Taking the top position for the first time since the second game of the season, Roberto Mancini's men reinforced their title potential with a remarkable result in the first league derby of the season.
Becoming the first team since 1930 to put six goals past United at Old Trafford, City put themselves five points clear and had fans dreaming of a first league title since 1968.
Manager Mancini was not as ready to imagine such things, declaring it would only be "a great day if we win the Premier League" and that it was simply a win in "one important game".
That said, the victory marked the start of almost five months at the top for City, though their lead was cut back again and again by United until, following a slip-up at Sunderland on New Year's Day, only goal difference held City on top.
But while things on the pitch were going well, one of the season's oddest dramas was playing out off the field.
Following his refusal to warm up while a substitute in City's Champions League game against Bayern Munich, Carlos Tevez fell out with the club, took umbrage with comments from Mancini and went absent without leave for three months, leading the manager to declare him "out" of the club.
Quite what effect the Tevez affair has had on the Blues' season is only likely to become measurable at the end of the season on 13 May, but following it and the blow of being knocked out of the FA Cup by United at home, their rivals edged ever closer.
For United, what may be the turning point of their season came 10 minutes into the second half at Chelsea on 5 February.
Three goals down and in danger of dropping three points behind City, they fought back to draw a game which Sir Alex Ferguson said "epitomised English football".
From there, wins against Liverpool, Norwich and Spurs put them in the pocket of the Blues, ready to pounce on any slip-up.
City made their mistake in March, losing to Swansea and following that result with draws against Stoke and Sunderland.
United's win over West Bromwich Albion put them top and the Red Devils took hold of the title race, stretching their lead with four straight victories.
Significantly, the wins came with clean sheets, increasing United's goal difference and bringing it close to that of the previously free-scoring City.
Eight points separated first and second at the beginning of April, a lead so significant that one bookmaker paid out on a United title win.
And, even after United lost to Wigan and City - boosted by Tevez's return to the fold - closed the gap to five points, Mancini was still adamant that the race for top spot was "finished".
But then came Everton's fightback from two goals to draw 4-4 at Old Trafford, which - with City's 2-0 win at Wolves cutting the lead to just three points - caused Ferguson to admit his side had "given Manchester City the initiative" in the league and set up "a derby of amazing proportions".
Whatever the result at Etihad Stadium, the most exciting season in Manchester for years may still have a twist or two left.