Torquay boss Martin Ling still believes his side can be promoted
Last updated on .From the section Football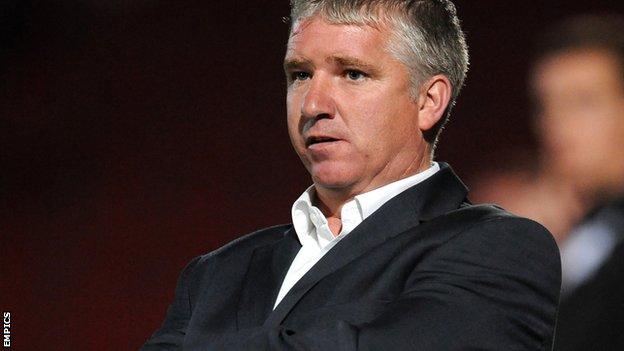 Torquay United manager Martin Ling believes his side will clinch the final League Two promotion place if they can win their last two matches.
His comments come despite the Gulls losing 2-0 at AFC Wimbledon to see Crawley go a point ahead of them in the race for third place.
"I still believe that if we get the two wins and 86 points it'll be enough to get us over the line," he said.
"We need to get more points than Crawley, it's as simple as that."
Torquay have not won any of their last three matches as they have slipped from second place to fourth in the table.
And with the Gulls missing out on promotion to League One last season after losing in the play-off final to Stevenage, the Torquay boss says some of the squad may be feeling the pressure this time around.
"They missed out last year, a lot of them were very close and it plays on their minds.
"I can say what I like and heap all the pressure on myself because I don't feel it like they do because I've been through it so often.
"It was a nervous performance [against AFC Wimbledon], most weeks you need eight players to perform and we only had three or four who performed to their potential.
"We've got to look more at the credentials of our players to play to their ability, and if they do they'll win games," he added.