Rushden & Diamonds supporters have got their club back
By Jon Wilkinson
BBC Northampton
Last updated on .From the section Football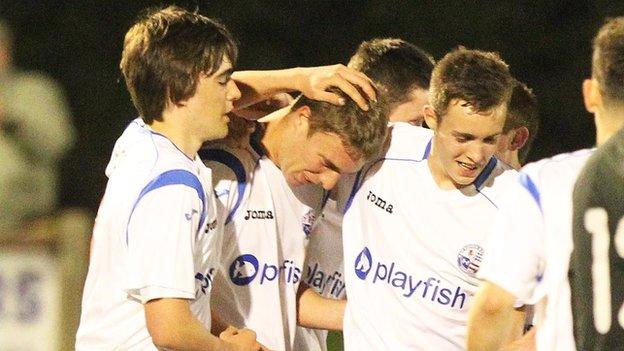 Success in football is most often measured by wins, promotions and cup success.
Rushden and Diamonds had competed in the Conference play-offs in 2009-10. Their downfall was so sudden that, less than a year later, the club were in administration, had no league to play in and fans would watch their ground pass to rivals Kettering Town.
"Ten months ago, I was involved in the Rushden & Diamonds Supporters Group, which was a vehicle for raising money and trying to save the club," chairman Ralph Burditt told BBC Northampton.
"Once the plug was pulled, and everything happened so quickly, the group became the focal point and we started to research setting up our own club. It snowballed from there."
AFC Rushden & Diamonds was formed as an under-18 side and entered the Northants Senior Youth League. There were links to the former Football League club in the colours, players crossing over and Mark Starmer - the former youth-team coach - taking charge.
But there was a big difference, and as much in a mentality as in a constitution-written basis for AFC Rushden & Diamonds. This is a fan-owned club.
"We're in control of our destiny," said Burditt.
"Supporter-run doesn't mean amateur-run. In a way, it gives us more access to very high quality people with a lot of different skills than we would have had if we were a conventionally structured club. And they volunteer their time.
"The club is structured in a way that it will rise to its natural, sustainable level. That's dictated by the number of members, the numbers through the turnstiles and the sponsors we get.
"We're equipped for roaring success or what might be considered failure."
Having adopted a 'one fan, one vote' constitution, members can have their say on everything from the choice of kit to how funds are distributed.
The fans backed this model enthusiastically. Crowds of 400 have not been uncommon at youth league games on a Thursday night, perhaps eight times the number that would normally be expected to attend.
Nearly 500 attended the Northants Senior Youth League Cup final between AFC Rushden & Diamonds and AFC Kempston Rovers. In a fairytale finish to their first ever season, Diamonds won 4-1, drawing plaudits from a still well-regarded member of staff from the old club.
"I'm absolutely delighted for them," said former Diamonds boss Justin Edinburgh, now managing Newport County. "Great praise must go to Mark Starmer and everyone else that has backed the football club.
"Hopefully this can be the foundation for them to get back to where they once were."
The plan, for now, is to field an adult team in 2012/13, groundsharing with Wellingborough Town. And Burditt and the other volunteers who launched AFC Rushden & Diamonds only hint at the efforts it has taken to make their dream a reality, now being rewarded.
"There's been some trials and tribulations along the way," said Burditt.
"You feel like its getting on top of you and then you go to a game, see the attractive football they've been playing and the supporters' enthusiasm for the club, and it soon takes away those anxieties."