Five of the best – a look back at the biggest title deciders
By Matt Monaghan
BBC Sport
Last updated on .From the section Football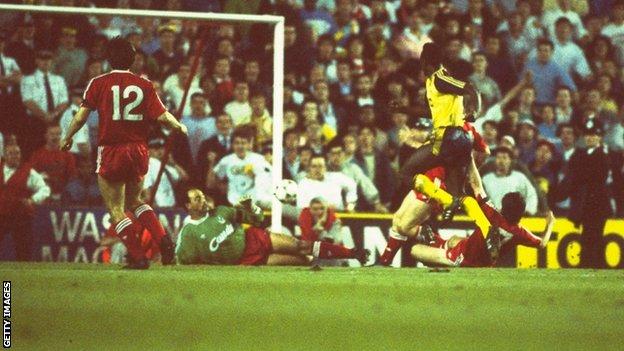 Manchester United's draw with Everton has set up Monday's derby with Manchester City to be the latest in a long line of dramatic title deciders.
From being eight points behind at the start of April after defeat by Arsenal, victory for Roberto Mancini's men will see them go above United on goal difference at the top of the table with two games remaining.
BBC Sport looks at five of the most important top flight championship clinchers in recent memory...
Liverpool 0-2 Arsenal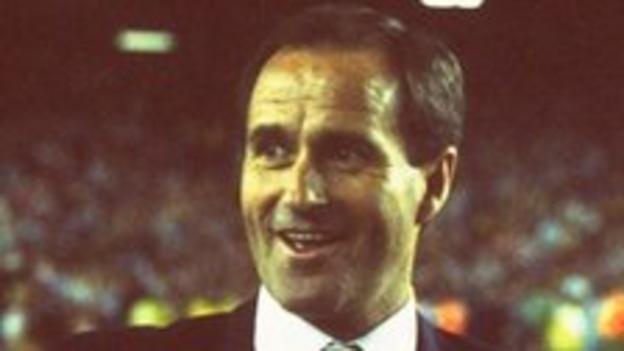 Date: 26 May, 1989. Venue: Anfield
Scorers: Arsenal; Alan Smith (52), Michael Thomas (90+1)
Quote: ITV commentator Brian Moore - "Thomas, it's up for grabs now!"
Arsenal and Liverpool headed into the final game of the 1988-89 season as the top two sides in the country. Liverpool started the game three points clear, with a marginally superior goal difference.
Crucially, a 2-0 victory for the north London side would see them take the title on goals scored. Alan Smith put Arsenal 1-0 ahead in the 52nd minute, but the race to get the second seemed lost before winger Michael Thomas rushed into the penalty area in injury time to slot past Bruce Grobbelaar to hand the Gunners the most dramatic of title victories.
Manchester United 2-1 Sheffield Wednesday
Date: 10 April, 1993. Venue: Old Trafford
Scorers: Manchester United; Steve Bruce (86 & 90+6), Sheffield Wednesday; John Sheridan (65)
Quote: Sky commentator Martin Tyler - "Alex Ferguson cannot control himself and that is perfectly understandable. It has been a phenomenal finish."
Sir Alex Ferguson may be going for his 13th top-flight title at Manchester United but the fight to get his first was the most difficult. A late-season collapse in 1991-92 saw Leeds United take the honours, and the pressure was on in the following season as United went head to head with Aston Villa.
Sheffield Wednesday seemed to be on course to claim a damaging victory when John Sheridan opened the scoring just past the hour mark. Centre-back Steve Bruce was to pop up with two headers in the 86th and 96th minutes, however, to steal a late victory which assistant Brian Kidd famously celebrated by sliding onto the Old Trafford turf.
West Ham United 1-1 Manchester United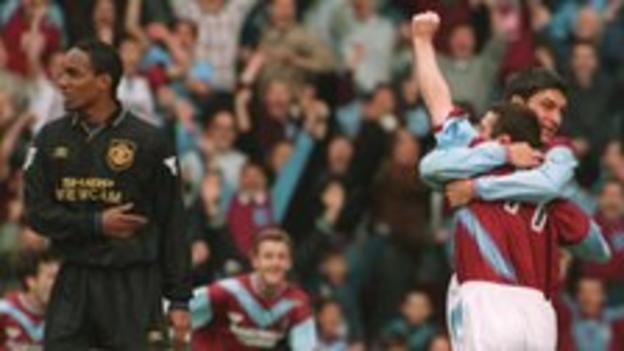 Date: 14 May, 1995. Venue: Upton Park
Scorers: West Ham United; Michael Hughes (31), Manchester United; Brian McClair (52)
Quote: Today match report: "You could have wept for United. To watch a side perform so heroically and still lose was heart-stopping for the neutral, heart-breaking for those more closely involved."
Manchester United had been closing in on table-toppers Blackburn Rovers for weeks as the season reached its conclusion. Kenny Dalglish's Blackburn defended their two-point lead in the table at Liverpool, while Sir Alex Ferguson's side knew only victory would do at West Ham United to have any hope of their superior goal difference handing them a third successive title.
At half-time, Blackburn were on course to win the league by five points after they went ahead at Anfield and Michael Hughes scored for the Hammers. Although Liverpool ultimately turned their game around thanks to a Jamie Redknapp winner, wave after wave of United attacks were repelled by Czech goalkeeper Ludek Miklosko, who produced the performance of his life to ensure Brian McClair's equaliser was in vain.
Newcastle United 0-1 Manchester United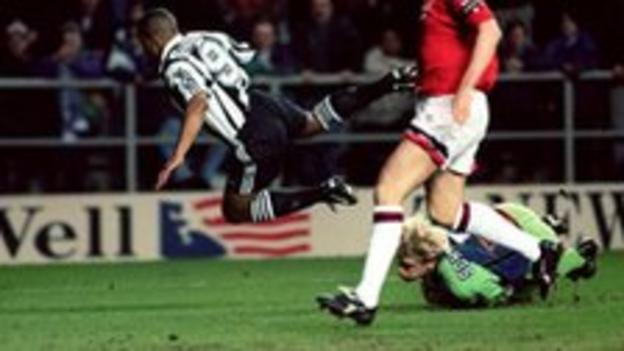 Date: 4 March, 1996. Venue: St James' Park
Scorer: Eric Cantona (51)
Quote: Newcastle manager Kevin Keegan - "First half we were superb, and if you have you ever seen a team get hammered 0-0 at half-time, that was it."
Newcastle United raced out of the blocks in the 1995-96 season as the exciting brand of football played under manager Kevin Keegan saw them take a 12-point lead by the turn of the year.
The tide had already begun to turn by the time Manchester United headed to St James' Park, though victory for the hosts would have extended the gap between the teams to seven points. Newcastle bombarded goalkeeper Peter Schmeichel, but the Dane was at his best as he set the platform for Eric Cantona to score the only goal against the run of play.
Manchester United 0-1 Arsenal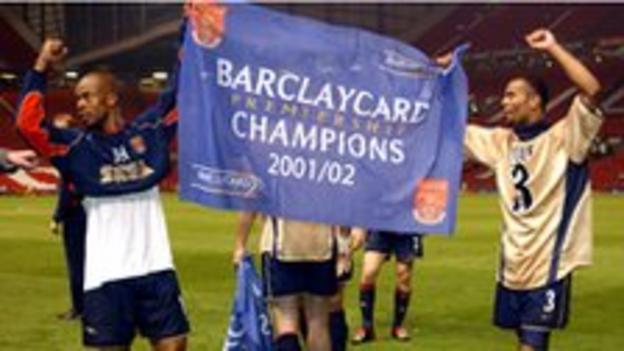 Date: 8 May, 2002. Venue: Old Trafford
Scorer: Sylvain Wiltord (56)
Quote: Manchester United manager Sir Alex Ferguson - "I certainly don't begrudge them their share of the honours because they play the game the right way."
Defeat to Newcastle over the Christmas period had made Arsenal outsiders in a five-way fight to land the Premier League trophy but a stunning 13-match winning run saw Arsene Wenger's team emerge to be crowned champions by season's end.
The penultimate game saw the Gunners travel to Old Trafford, with Manchester United knowing they needed a victory to keep the title race alive. Arsenal dominated the match from the start, and finally made the breakthrough just before the hour mark as Sylvain Wiltord was quickest to react to a rebound from a Freddie Ljungberg shot to score the decisive goal.