Terry Connor says he hopes to be in charge of Wolves next season
Last updated on .From the section Football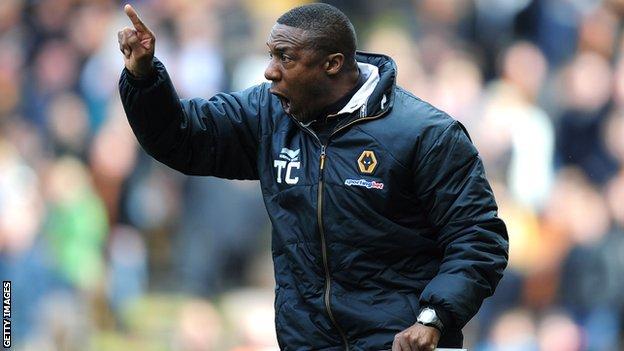 Interim Wolves manager Terry Connor wants to take charge of the relegated club in the Championship next season.
The future of Connor and the club's players will be discussed at the end of this season.
Connor told BBC Sport he hoped to be a part of a Wolves promotion challenge next year, saying: "If it involves me, great.
"If it doesn't, well, I'll use the experiences I've had at Wolves to try to find employment elsewhere."
The 49-year-old took over first team duties at Molineux in February following Mick McCarthy's sacking.
Wolves have since been relegated with three games of the campaign to go after losing 2-0 to Manchester City, and will play Swansea, Everton and Wigan in their remaining three fixtures of the season.
Under the temporary leadership of Connor they have failed to win a game in 10 matches.
Connor says he will stand by any decision the Wolves board make concerning his future when the season finishes.
"The club will take the appropriate steps and decide whether it's myself, or someone with Championship experience, Premier League experience, or experience from abroad to take charge," he said.
"That will be the club's decision. I will stand by that decision."
Connor added: "My own future is very much incidental compared to what happens at the football club.
"I've been here 13 years and every day I have tried to give my very best."
Former Wolves left-back Michael Gray believes the decision to appoint Connor as McCarthy's successor was wrong.
Gray told BBC Radio 5 Live: "It was farcical what went on. Mick got the sack and they said they were going to bring in the right person.
"They have obviously ended up getting Terry in charge for the last 13 games, which was the wrong decision.
"They should've got a new face in the dressing room. It was just unfortunate and the performances just haven't been there."