Paul Sturrock wants last of 'other' Bilel Mohsni
Last updated on .From the section Football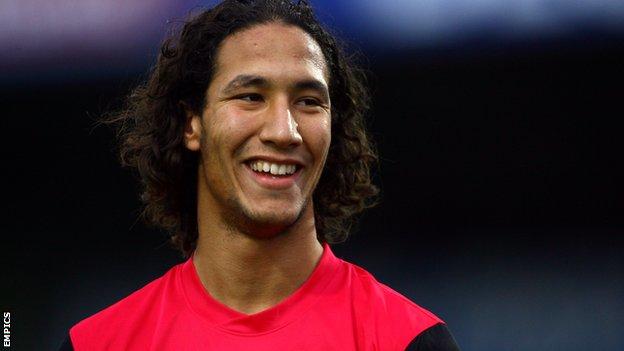 Southend United boss Paul Sturrock hopes the controversial antics of Bilel Mohsni are a thing of the past.
The 24-year-old's Shrimpers future hung in the balance in March following a sequence of disciplinary issues.
But the Moroccan's 21-minute hat-trick secured a 3-0 win over Barnet on Friday and confirmed their place in the League Two play-offs.
"We don't want the other Bilel. I don't think anybody wants the other one," Sturrock told BBC Essex.
Mohsni said three weeks ago that he thought his days at Roots Hall were over after asking to be substituted and travelling home on his own from a defeat at Morecambe.
He was also involved in a reported training ground fracas and has had his on-field discipline questioned.
But Sturrock was delighted that the versatile defender, who played in a wide midfield role against Barnet, was able to show his influence on the side.
"He is playing in an alien position. It's hard work because he's got to be back defending and then he's got to be up at the back post at the other end," he said.
"He's committed to that role, he's tempered himself very well so far and I'm very pleased with him."
Sturrock was also pleased to confirm their presence in the play-offs, but bemoaned a poor December, which saw Southend lose their grip on an automatic promotion place.
"The last three years have been very difficult for everybody. We've progressed, that's 77 points, I think it was 61 last year," said the Scot.
"I'm disappointed with that wee month when we couldn't win at home - had we picked up two of them, things could be different, but they're games we didn't deserve to win.
"It's been one of those seasons. But it's still not finished.
"The important thing is we keep winning football games and then the confidence comes into the team."