Plymouth Argyle owner James Brent targets Championship
Last updated on .From the section Football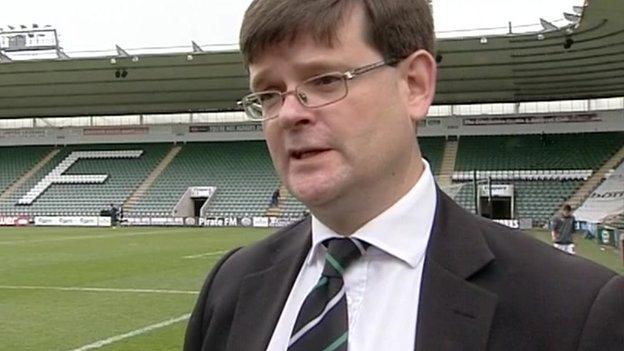 Plymouth Argyle owner James Brent is aiming to build a side capable of making the Championship.
Brent took Argyle out of administration in October and has seen the team climb from the bottom of the Football League.
"There is no doubt in my mind that Plymouth Argyle should be a Championship club, not a League Two club," Brent told BBC Spotlight.
He added: "It's very much an aspiration to move forwards, back to the Championship.
"We've said we'll do it on a sustainable basis and we've got the Green Army to make that happen.
"For the last two games at home we've had close to 9,000 fans turn up. We're second only to Bradford, who charge very discounted season ticket prices, so we've got the support base to take us back into the Championship."
Brent says he will now open up discussions with manager Carl Fletcher, both in terms of whether he will stay on at the helm and, if so, what players he would like to bring in to bolster the Argyle squad.
"The football management team and the staff have achieved what many people, who know a lot about football, told me was unachievable," added Brent.
"I can't believe there is any other manager in the Football League who has shown greater passion and commitment to achieve than Carl has.
"While we were focused on avoiding relegation we wouldn't discuss next season.
"Now we've avoided relegation we're very keen to start discussions with him to see if there is a basis where we are both happy to move forward."