Andrew Taylor confident Cardiff City can reach play-offs
Last updated on .From the section Football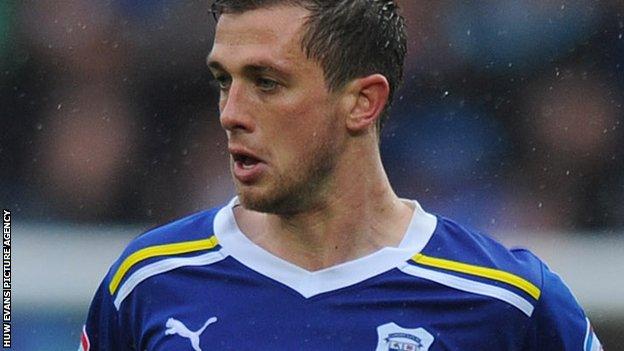 Defender Andrew Taylor is confident Cardiff City can secure a Championship play-off spot in their final game of the season against Crystal Palace.
The Bluebirds are currently sixth in the table and occupy the final play-off place - two points ahead of rivals Middlesbrough.
Cardiff need a point at Crystal Palace to secure their play-off spot and Taylor is confident that can be achieved.
"We've got to be confident," he said.
"We've been a good run of form recently and I think we'll go down there and get the job done.
Taylor added: "At the end of the day it's in our hands and we've just got to focus on what we need to do.
"Four or five weeks ago when it wasn't in our hands we were relying on people to drop points.
"Now it's all down to us and we've just got to approach the game in the right way in the same way we have the last few. I firmly believe that we'll do the job and get the point."
Middlesbrough, Taylor's former club, are the only side that can deny Cardiff a play-off place on the final day of the regular season.
But to do that Cardiff would have to lose at Selhurst Park while Boro would need to win at another of Taylor's former clubs, Watford.
"It's funny how it's worked out," Taylor told BBC Radio Wales Sport.
"You couldn't have written the script better for it to be Cardiff or Middlesbrough in the last play-off position and obviously Watford have got a say in the matter.
"I think Watford will want to do a good job. It's their last home game of the season so they won't be pushovers.
"I've had a few texts and phone calls off some of the[Middlesbrough] lads giving me some banter and telling me there's no pressure. But that's all part and parcel of it. Hopefully we'll pip them."
Cardiff have already beaten Crystal Palace twice this season, including a penalty shoot-out victory over Dougie Freedman's side in the Carling Cup semi-final.
"They've got a chance to put things right if you like from what happened in the cup games," added Taylor.
"It's going to be a difficult game for us and regardless they've got nothing to play for it's a tough place to go. They'll be wanting to prove a point and beat us after the Carling Cup exits."