Ally McCoist demands that Kyle Lafferty learns from mistakes
Last updated on .From the section Football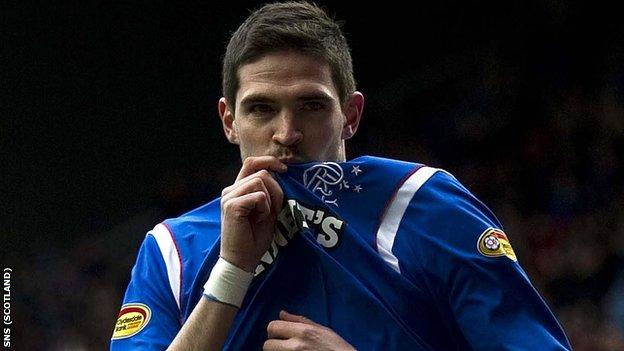 Striker Kyle Lafferty can still secure a future at Rangers, according to the club's manager, Ally McCoist.
The Northern Irishman has been suspended by the club for two weeks for failing to report for duty on Saturday.
"I obviously have a problem with him at the moment but the one thing I will never do as a manager is hold grudges," said McCoist of the 24-year-old.
"People do make mistakes - and nobody made more of them than me as a player - but you have to learn from them."
Lafferty did not make himself available for SRangers' 3-0 win over Hearts at Tynecastle.
The Northern Ireland star has been dogged by a hernia problem but has been used as a substitute in recent weeks.
McCoist revealed that he had left a phone message for Lafferty when he did not turn up for the trip to Edinburgh, but the player did not return the call.
"He didn't do that so I felt there was no other action to take and I didn't take that action lightly," the manager told the club's website.
"We have had to take the action of suspending him and he has obviously taken his medicine. He has taken advice from the PFA and I spoke to his representative.
"I also know his agent and his previous agent have been speaking to a Championship manager down south, which I'm not sure is allowed.
"I think he has been winding us up the wrong way and the supporters and, certainly, the players deserve a lot, lot better from one of their own.
"We have a great set of boys and you don't want to disrupt them, but those lads in that dressing room deserve better.
"I am really disappointed in Kyle's actions and it's unfortunately not the first time."
McCoist, though, did offer an olive branch to the forward, saying: "I have told Kyle on numerous occasions that now is the time he has to start learning.
"We all think he is a smashing lad and we all know the talent he has got but we want to see it at this club.
"If it's not at this club, he's running out of time for it to be somewhere else."
Lafferty, who signed from Burnley in the summer of 2008, will miss Scottish Premier League games against Celtic, Dundee United and Motherwell.
Although his contract runs out at the end of next season, he is likely to have secured an exit clause to allow him to leave for a specific fee this summer after agreeing to a temporary wage cut with the rest of his team-mates last month.
Players are due to revert to their original contracts on 1 June.