No place on Leeds board for fans - Peter Lorimer
Last updated on .From the section Football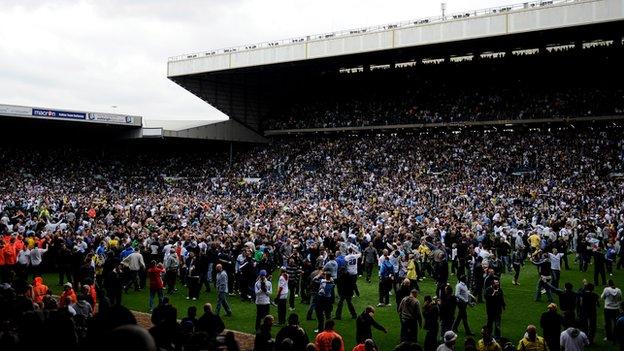 Leeds United director Peter Lorimer does not envisage a member of the supporters trust having a place on the club's board.
Relations between some fans and the directors have been strained recently but Lorimer does not see a time when the fans have a say in board decisions.
"For me it's never worked at any club," he told BBC Radio Leeds.
"People put a lot of money in and they're entitled to run the club as they want."
He added: "I think having meetings and talking about things is reasonable but I just don't think it works on a whole scale. I've seen a number of occasions where fans have ended up running a club and it's ended in disaster."
Lorimer's place on the Leeds board has seen some fans take against the Scot who had two spells at Elland Road as a player.
Chairman of the Leeds United supporters Trust Gary Cooper admitted he has been surprised by some of Lorimer's comments.
"I beg to differ with Mr Lorimer. I don't know which clubs he's referring to when he says it doesn't work," he told BBC Sport.
"Barcelona and Swansea both have fan representation on the board and there's a number of other clubs who have benefitted from it.
"Right now I don't think we have any relationship with the board whatsoever and that's sad. I don't think they see what good we can do for the club."
Despite this, Lorimer says he is unconcerned with how the fans perceive him and has always had their best interests at heart.
"I don't have any problem with how the fans view me," he continued.
"Everything I do is for the good of the football club and the fans and that is my role, to keep in touch with the fans and let them know what we're doing.
"One thing I've never done is led the fans down the garden path. I've always been up front with them even when they haven't liked it."