Rangers fans voice fury at Scottish FA penalties
Last updated on .From the section Football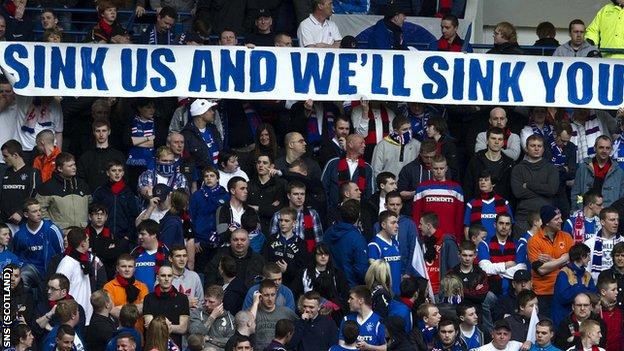 The Rangers Supporters' Trust has accused the Scottish Football Association judicial panel of trying to "cripple" their club.
And they are considering a series of protests and boycotts against the penalties imposed on the Ibrox outfit.
Rangers have been hit with a 12-month transfer embargo and fined £160,000 in relation to their finances and the appointment of Craig Whyte as chairman.
A statement from the trust read: "This is a shameful decision".
Rangers, who are in administration, were charged with six breaches of SFA regulations, with five guilty verdicts and one "not proven".
The club's administrators, Duff & Phelps, say the penalties are "draconian" and undermine their attempts to sell the club and will appeal against them.
The trust's statement claims the SFA's decision "has been taken with the sole purpose of crippling Rangers Football Club".
It continues: "It is completely unacceptable and fans groups will be meeting to explore how we jointly express our opposition to this decision in the strongest possible terms.
"This could include protesting at Hampden on on the day of the Scottish Cup final as well as boycotting SFA sponsors.
"All options are on the table and no Rangers player or supporter can credibly play in or support the national side until this ridiculous decision is reversed."
The Rangers Supporters' Assembly made a similar point.
Their statement read: "Just when the club needs the SFA to help it... they kick us when we are down.
"Why did the SFA not investigate when they said they had suspicions before Christmas rather than wait until the club went into administration?
"We do not want to run away from our responsibilities and we accept that any wrong-doing needs to be dealt with but to do it now when we are trying desperately to exit administration is brutal in the extreme."
The governing body wrote to Rangers on 1 December asking for clarification over Whyte's declaration 24 hours earlier that he had previously been disqualified as a director, a fact that emerged almost six weeks previously in a BBC Scotland documentary.
The SFA announced they were launching a full independent inquiry on 17 February, three days after the club went into administration.
The findings of the inquiry led to several charges against the club and Whyte, who has been banned for life from Scottish football and fined £200,000.
The trust statement added: "Despite calls to delay this action the SFA persisted with this case while the club was not in a position to adequately defend itself and had the SFA done its job in the first place on Craig Whyte then this entire saga could have been avoided.
"Rangers supporters are appalled by this decision which brings shame on the SFA and the national game."