Ref justice as Simba put title celebrations on hold
By Emmanuel Muga
BBC Sport, Dar es Salaam
Last updated on .From the section Football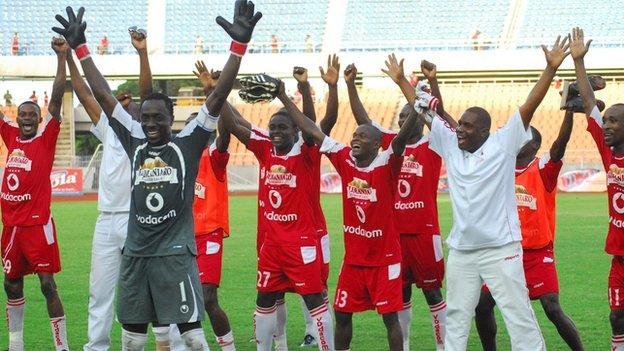 The Tanzania Football Federation (TFF) has punished match officials for failing to control a game, the result of which would have decided the league champions.
Referee Rashid Msangi, who was in charge of Mtibwa Sugar against Azam game on Monday, has been removed from the list of premier league referees along with his two assistants.
It was felt that the referee was at fault for the situation that led to Mtibwa abandoning the game before the final whistle.
With the scoreline at 1-1, Mtibwa's players walked off, angered at the referee's decision to award Azam a penalty in the dying minutes of the game.
Had the scoreline remained at 1-1, then Simba would have been crowned champions, having beaten Moro United 3-0 on the same day.
"The referee was found responsible for disrupting the game and thereby removed from the list of premier league officials" said federation spokesman Michael Wambura, adding that Azam had been awarded three points.
Azam, who are on 53 points, can claim their maiden title by winning both remaining matches next month. Simba, who are six points clear, will only need a draw in their last game - against arch rivals Yanga - to seal their first title in two years.
In a further twist, Azam coach Stuart Hall has alleged widespread corruption in the Tanzanian league, suggesting this would prevent his team from winning the championship.
The TFF has reacted strongly, with Wambura saying that Hall will be asked to substantiate his allegations when he is called before the disciplinary committee.
Wambura, though, did admit that they are working with the country's anti-corruption body to investigate the possible existence of wrong-doing in the league.