SFA sanctions prejudice Rangers' survival - administrators
By Matt Slater
BBC sports news reporter
Last updated on .From the section Football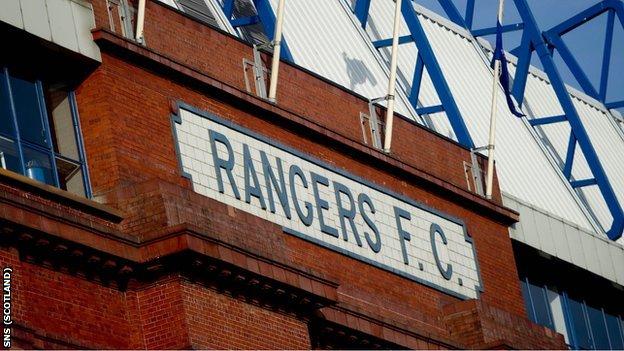 Rangers' administrators Duff & Phelps have accused the Scottish FA of "prejudicing the survival" of the club.
The SFA fined Rangers £160,000 and banned them for a year from registering new players over the age of 18.
And the club's major shareholder Craig Whyte was hit with a lifetime ban from Scottish football and fined £200,000.
But it is the player registration ban that has caused most concern for Duff & Phelps.
In a statement, joint administrator David Whitehouse said: "We are sure the authorities recognise that any potential purchaser or investor in a football club must have clarity in relation to its future playing capabilities and revenue potential.
"By failing to provide clarity in relation to pragmatic and commercially sensible penalties the authorities are by default prejudicing the survival of one of the clubs whose existence is key to the wellbeing of Scottish football.
"We will continue to work tirelessly over the next couple of days to attempt to secure the comfort from the football authorities as to the level of future sanctions which will be raised, so as to enable one of the bidders to proceed with an acquisition of Rangers Football Club Plc without further delay."
The SFA is obliged to send the club a "note of reason" to explain how it reached this verdict within the next 48 hours.
The club, as is normal in disciplinary matters, then has three working days to lodge a request for an appeal. Once that is received, the governing body appoints a new three-man panel to hear the appeal.
Whitehouse added: "The decision to prohibit the club from signing new players is akin to a court ordering the administrator of a trading company not to buy stock.
"The principal operating and trading asset of a football club are its players and an inability to sign new players frustrates both the ability of the company to trade and the statutory objectives of administration."
Duff & Phelps fear Rangers' struggle to field a competitive team next season could have a serious impact on gate receipts and sponsorship revenues.
It would also seriously hinder Rangers' chances of the early return to European competition that they so badly need to balance their books.
An SFA spokesman said the panel will be comprised of experts from a "cab-rank system" that numbers "hundreds of retired officials, administrators, ex-managers and former players".
This panel would be chaired by a QC or senior judge, and could be up-and-running as early as next week.
Any further delay to this process would have grave repercussions for Rangers' hopes of emerging from their current crisis.
The administrators, who have been running the Glasgow giants since 14 February, had hoped to name a preferred bidder for the club on Monday.
But that deadline came and went, like many before, and any hope of proceeding towards an exit from administration under a new owner looks unlikely while future penalties for the club continue to arrive.
The SFA's action was a response to a number of misdemeanours by the club and its majority shareholder Craig Whyte, mostly dating from his takeover last May.
But there is also a series of Scottish Premier League penalties that will be voted on at the end of this month, and the small matter of an imminent verdict from a tax tribunal that could see a £75m tax bill arrive at Ibrox.