Promotion-winning Turner sets sights on League One
By Ged Scott
BBC Midlands Sport
Last updated on .From the section Football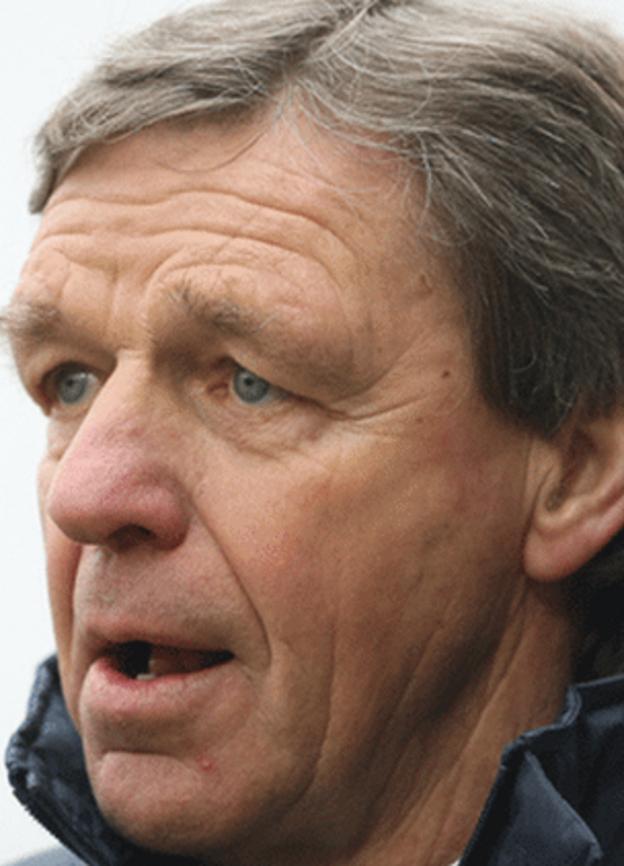 He might be a 64-year-old grandad who has been on football's managerial scene for almost as long as Sir Alex Ferguson - but that does not stop Graham Turner making plans for the future.
No sooner had he won promotion with Shrewsbury Town on Saturday afternoon than Turner was planning how his team might fare in League One come August.
"We have to plan carefully for next season," he told BBC Radio Shropshire.
"It's a big jump. I don't think there's any doubt about that."
Turner added: "I experienced that with Hereford when I took them up four years ago.
"You need that quality if you're going to survive, or even to flourish in there.
"And we'll be starting to make our plans and take stock of the players' contracts in the next week."
If that is the practical side of the no-nonsense Wirral-born former centre-half, who made 650 appearances in a playing career with Wrexham, Chester and Shrewsbury that never left Welsh border country, the delight on his face at the Meadow on Saturday evening also shone through to more truly capture a warm-hearted family man.
"It's been a terrific turn-out and a lovely atmosphere," grinned Turner, as he enjoyed the celebratory hugs of his adoring grandchildren.
And no wonder they love their grandad.
Not even Ferguson has performed the feat of twice achieving promotion with three different clubs. And, although Turner's twin successes with Wolves and Hereford came in quick succession, what makes his achievements with Shrewsbury more special is that they came an astonishing 33 years apart.
Turner appeared to be seeing out his time down the A49 in the chairman's office at Edgar Street, when, not for the first time, he was approached by Shrewsbury to make a nostalgic return to Shropshire - the scene of his first success as Town's player-manager way back in 1979, when he led them to a decade-long stay in the old Division Two.
It looked like it might all end in frustration when Turner's men lost to Torquay a year ago, Shrewsbury's third League Two play-off failure in five years, having lost to Bristol Rovers in the 2007 play-off final and then again at Wembley to Gillingham in 2009.
But this time around Shrewsbury have kept their heads, launching a late-season nine-game unbeaten run that culminated in them clinching promotion against Dagenham & Redbridge in front of a near capacity 9,441 crowd at the Meadow.
"I've got to pay tribute to the players," said Turner. "They've been fantastic all season. And, for all the hard work they've put in, they deserve everything they've got.
"It was a surprise when we went up in my first season in charge - 1979. And expectations were greater this season.
"The priority was always to make the play-offs, then the top three. But we've got there in the end."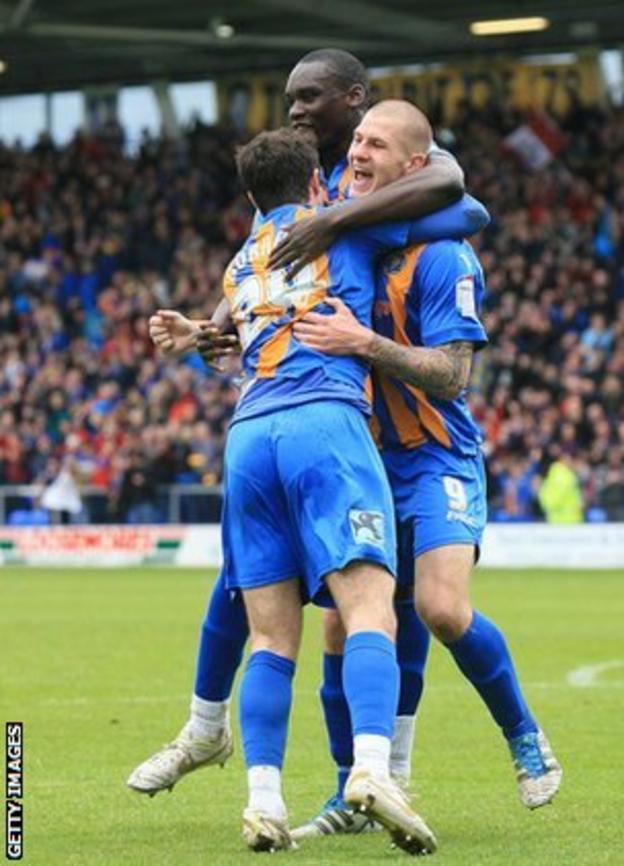 It is 18 years since Town last departed this fourth tier of English football in the right direction under Fred Davies in 1994.
Relegation followed three years later before the unthinkable happened and they lost their place in the '92 club' in 2003.
Although they returned to the Football League after just one season in the Conference, Town have spent the last eight seasons in the basement.
But the decision to leave the rickety old Gay Meadow in 2007 for new pastures in a gleaming, purpose-built home on the edge of town at Meole Brace, with its extra capacity to generate revenue, has finally paid off.
And Turner admits that it was their home form that proved the key to their success.
"We knew all along that we had the making of a side that could see the season out and enjoy success," he said. "But the Meadow's been a fortress for us.
"We were always behind with home games, but we knew we always had the opportunity of gaining on sides around and above us thanks to our home form and that's proved to be the case."
If they are to compete at the higher level, Shrewsbury will need their proud, still comparatively new home to remain Fortress Meadow next season, filled by the same sort of numbers who turned up on Saturday.
That was something Turner's impoverished Hereford were powerless to do when they went up four years ago - when he found himself unable to compete on a far-from-level playing field, forced to call in favours and beg for loan players, rather than risk money that his unfashionable club had not got.
And, although this time he is not the one responsible for counting the pennies and paying the increased wages that promotion brings, Turner will be determined not to fall short again - and hoping that the Shrewsbury chairman's ambitions match his own.