Olympic preparation "hard" for Egypt coach
Last updated on .From the section Football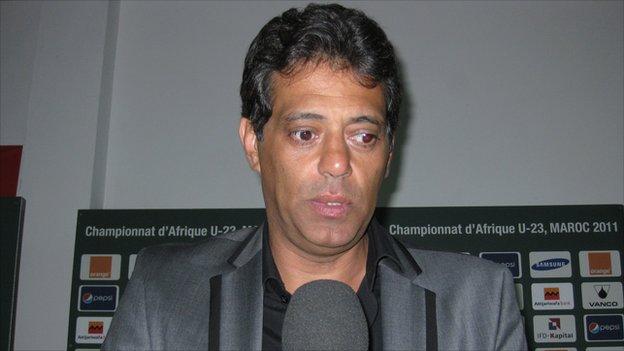 Egypt under-23 coach Hany Ramzy says preparing his team for the Olympic football tournament will be "very hard", with all domestic football in the country called off.
Egypt will play Brazil, Belarus and New Zealand in Group C of the Olympic tournament following the draw at Wembley Stadium on Tuesday.
"We don't have the chance to check new players, because football has been stopped," Ramzy told the BBC.
"It's [also] very hard for us to play friendly matches in Egypt, so we have to travel away and physically that is not good for my team."
Ramzy has yet to decide whether he will draft in any over-age players for the competition - despite being allowed to pick a maximum of three who are over 23 years old.
"For sure we need experience, but I prefer to work with my team - who I have worked with for two-and-a-half years now," Ramzy said, without ruling out drafting in some older competitors.
One thing coaches will not have to worry about is clubs denying players the chance to join up with their countries, because the Olympic event is a Fifa tournament, and clubs are obliged to release anyone who is called-up.
And the head of the Senegal Football Federation, Augustin Senghor, is hoping to use that to his advantage in their match-up with hosts Great Britain, plus the UAE and Uruguay.
"We will try to mobilise all our good players, because this is a Fifa tournament and all the good players will be released," Senghor told the BBC.
He raised the possibility of drafting in stars like Newcastle United striker Papiss Demba Cisse as one of Senegal's over-age players.
"We want to be here with our best team and Papiss Demba Cisse is one of the top scorers here in Britain - but we have other good players and we will work to integrate them into our team."
Senegal will open the men's tournament with their game against the hosts at Old Trafford, and Senghor is relishing that chance, after his side became the final side to grab a place in the competition.
"It was our dream to be in a group with a team like Great Britain - all the people of the world will focus on our team, and we can cause a surprise."