Scottish FA sanctions could kill Rangers - Ally McCoist
Last updated on .From the section Football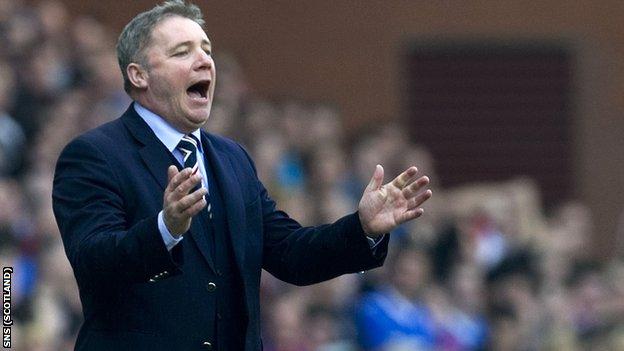 Ally McCoist says the Scottish Football Association's punishment of Rangers could "kill" the club.
"Plain and simply, I think it is an absolutely shocking decision," manager McCoist told the club website.
"This decision could kill our football club, simple as that. Make no mistake about it."
The Ibrox boss said that, on hearing of the SFA's judicial panel tribunal's decision on Monday night, he was "shocked and absolutely appalled by the way this supposedly independent judicial panel was coming down on us".
"Who are these people? I want to know who these people are," added McCoist.
"I'm a Rangers supporter and the Rangers supporters and the Scottish public deserve to know who these people are, people who are working for the SFA.
"Make no mistake about it, this is an SFA decision. They have appointed the panel so therefore they are working for the SFA, but who are they?
"I think we have a right to know who is handing out this punishment to us, I really do."
And he added: "Like everyone else involved - our team, our supporters, our staff and a lot of neutrals - I am staggered at the severity of the punishment.
"This decision could kill our football club, simple as that. Make no mistake about it."
McCoist also admitted that he was "leaning towards" accepting that the club's immediate future might rest in the Third Division, a possible scenario should Rangers emerge from administration in the form of a newco.
"It would be an unbelievably drastic measure and it will have an incredible impact on Scottish football - and not for the good," he said.
"But if they are going to continue to impose sanctions on us and make things extremely difficult for us to defend ourselves then maybe, just maybe, it might be the right thing.
"We are hanging by our fingertips. We're really at the do or die stage and I can't reinforce that opinion enough."
Meanwhile, the SFA has stressed it needs to implement rules "without fear or favour" following a backlash from Rangers fans and administrators over sanctions against the club.
Chief executive Stewart Regan said the club's punishment was decided by an independent three-member panel in conjunction with the disciplinary procedures approved unanimously by members less than a year ago.
In a statement, Regan said: "I can fully understand the fear and frustration felt by all Rangers fans throughout the most difficult period in the club's history.
"The Scottish FA has a responsibility to all its members and must implement its rules without fear or favour."
"It is important the Scottish FA, as the governing body, works in association with the Scottish Premier League and Scottish Football League to reinvigorate the national sport.
"Rangers have been part of the fabric of Scottish football's history and are integral to its future prosperity.
"The Scottish FA must act with integrity and with the best interests of the game at heart. It is with this in mind that we await any appeal from the club."