Egyptian riot club Masry to be relegated on return
Last updated on .From the section Football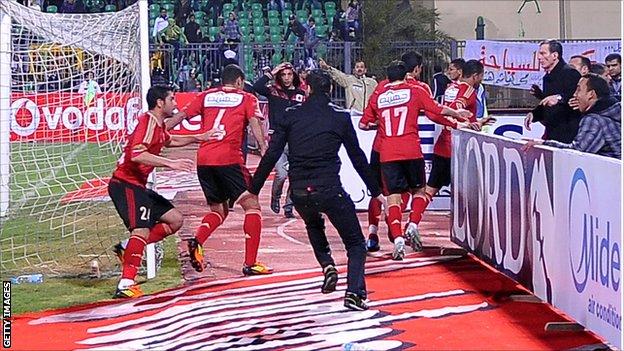 Egypt's Al Masry have had their punishment for a riot which killed 74 people earlier this year increased.
The club's existing ban remains in place, but when they return for the 2013/14 season they will be forced to play in the second division.
The Egyptian Football Association (EFA) extended the sanctions following an appeal hearing on Tuesday.
The club whose fans bore the brunt of the violence, Cairo's Al Ahly, were furious at the initial punishment.
More than 70 people face charges arising from the violence, which erupted after a league match between Masry and Ahly on 1 February.
The ban on Masry applies to their senior team only - but the club is to be obliged to honour the contracts of its top players, even though they will not be in action for more than 12 months.
A four-year ban on the Port Said stadium stands and the club's fans will be excluded from all their matches for the first year of their return.
A number of lesser punishments were imposed on Ahly for their role in the riot.
They appealed against those, and a four-match ban on their fans has been reduced to only one game.
But midfielder Hossam Ghaly has had a four match ban increased to six games.
Ahly's response to the increase in Masry's punishment, and reaction to the changes in their own, is likely to be determined at a board meeting, which will be held shortly.