Kettering Town's David Bridges keen to go on with club
Last updated on .From the section Football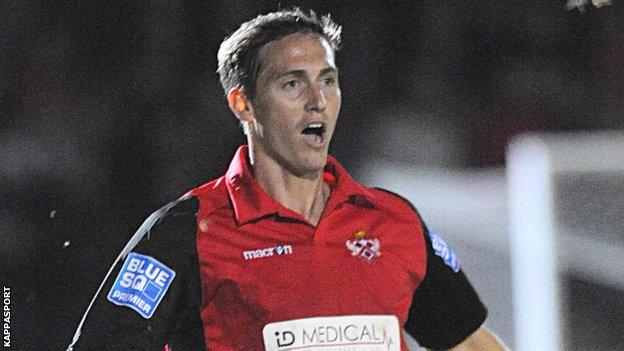 Kettering Town's David Bridges says he will be keen to banish memories of his 'worst ever' campaign next season.
Bridges told BBC Northampton: "Relegation hurts now but I had a great year with Kettering in the Blue Square Bet North [in 2007-08].
"I've got next year on my contract and I'd like to stay."
He added: "It's been the worst season of my career and my first time being relegated, so it's not been a nice set of memories at all."
The former Stevenage midfielder is one of 53 players to turn out for the Poppies in a season in which four managers took charge, the squad at times went unpaid, there was a player registration embargo imposed and the club were deducted three points and fined,.
The club announced on Friday that they had come to an agreement with centre-half Jerel Ifil for him to be released half-way through his two-year contract.
"It shows that there's not been the continuity on the pitch and we all know what's been happening off the pitch. It's been a sorry story.
"My position is that I want to be here. You've got to try to remember what can still be in front of the club, rather than get stuck in the situation right now.
"It'll be tough for whoever's in charge to try to get a team out there, rather than a bunch of footballers who may or may not be good enough. Obviously, it's a building process, just like the whole club will go through."
The Kettering players applauded the club's home fans prior to and after their 1-1 draw with Barrow at Nene Park, in which Bridges scored his third goal of the season.
"There's a core of fans here that have come up the road to their old rivals and they'll stand there and sing. That's great for the club and that's who we have to go out and fight for."