October date for Rangers' cash claim at High Court in London
Last updated on .From the section Football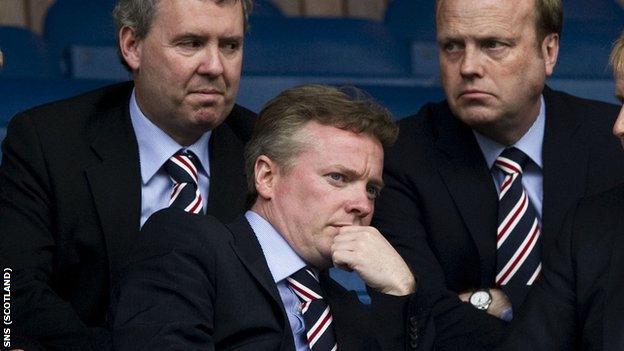 Rangers' administrator must wait until October to make its case on the club's behalf for almost £30m in damages and money owed at the High Court in London.
Duff & Phelps is suing lawyers Collyer Bristow for about £25m for the firm's handling of Craig Whyte's ill-fated takeover of Rangers in May 2011.
And, in competition with other parties, it is also seeking £3.6m that it claims rightfully belongs to Rangers.
Lawyers for Duff & Phelps had sought a summer trial, given Rangers' plight.
However, High Court judge Mr Justice Arnold ruled against an "expedited" trial, stating: "Clearly the administrators need to put the club on as stable a financial footing as possible.
"As I see it, there is no critical difference between a judgement becoming available in, say, September 2012 and a judgement becoming available in, say, November 2012."
It means Duff & Phelps will be unable to try to boost the Ibrox coffers before the start of next season.
Mark Phillips QC, acting for the Glasgow club's administrator, had told the judge in a written statement: "The club's future is now in jeopardy.
"The...administrators are seeking to find a buyer but the negotiations are complex, difficult and fraught, and leading bidders have pulled out of the race in recent days.
"The...administrators are struggling to keep the club in business. Money is tight and time is short."
Rangers, in administration since 14 February, have been left reeling by sanctions imposed by the Scottish Football Association on Monday, which include a one-year ban on signing players aged 18 and over and a fine of £160,000.
Duff & Phelps intends to appeal on behalf of the club.
Ten points were deducted from the club's Scottish Premier League points tally and on 30 April the SPL will vote on sanctions that it might impose on the club should it re-emerge as a newco.
When the main hearing does come to court, Duff & Phelps will allege that Collyer Bristow lawyer Gary Withey participated in a "conspiracy" with Whyte and "did a runner".
Withey offered advice to Whyte when the Scot was trying to acquire Sir David Murray's majority share in Rangers, said Phillips at Tuesday's pre-trial hearing.
And it became clear that "something was seriously wrong" after Withey resigned from Collyer Bristow earlier this year, said the QC.
Phillips told the court that there was "no evidence to implicate anybody else" but Withey and that he [Withey] "was privy to Mr Whyte's deception and participated in the conspiracy".
Collyer Bristow has yet to outline any detailed defence to these allegations and those claiming negligence.
Whyte had said his company, The Rangers FC Group, would pay more than £9m, including £5m to buy players, and the money would be held by Collyer Bristow for Rangers' "benefit".
But Phillips said Whyte's "representations" were "false" and that he had "no ability to provide the necessary funds and no intention of providing them".
Phillips said Collyer Bristow used "much" of the £24m received from Ticketus, a firm which buys tickets in advance for events, to "make numerous payments on behalf of Mr Whyte and his company".
Duff & Phelps' legal representative went on to say that the day after the company was appointed administrator, it contacted Withey to ask for confirmation about an amount of money held by Collyer Bristow on "trust" for Rangers.
Withey said initially that Collyer Bristow was not holding any money, then "changed his story" and said the firm was holding £260,000, claimed Phillips.
A week later another member of staff told administrators that the firm was "in fact holding" £3.9m.
"The situation then became even more peculiar," said Phillips, in the written statement.
"To use a colloquial expression, Mr Withey 'did a runner'."
Other parties claiming elements of the £3.6m are HMRC, Jerome Group pension fund and Merchant Turnaround.