Aston Villa manager Alex McLeish says he will fight on despite abuse

By Phil McNulty
Chief football writer, BBC Sport
Last updated on .From the section Football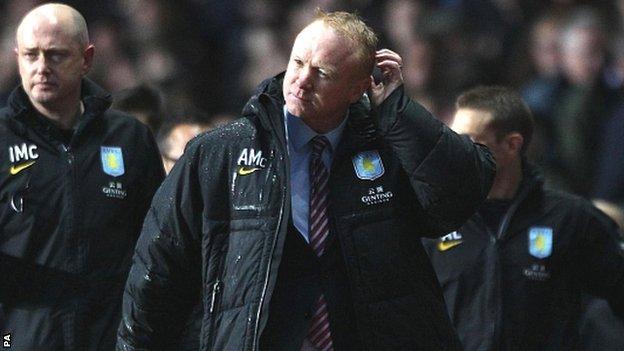 Alex McLeish insists he is determined to fight on as Aston Villa manager despite being subjected to a barrage of abuse by supporters during and after the home defeat by fellow Premier League strugglers Bolton.
And as Bolton turned the game around through Martin Petrov's penalty and David Ngog's winner after Stephen Warnock had put Villa ahead, the home fans turned on McLeish.
Villa's fans demanded his sacking - and fired more abusive chants in his direction - as owner Randy Lerner and chief executive Paul Faulkner looked on.
McLeish spoke with Lerner and Faulkner after the defeat, but said: "They are frustrated, just as I was. To see the game turn around like that after we took a deserved lead was horrible.
"It was incredible the way the game turned but I do understand the fans' reaction. They know the team is in a bit of trouble in a position Aston Villa fans don't expect the team to be in."
McLeish, who was relegated with Villa's arch-rivals Birmingham before moving across the city last summer, admitted he had never suffered criticism on such a scale from his own supporters.
"It was a first, but as I say understandable," he said. "I couldn't say I didn't expect that to happen. We had three points in our grasp but we then lost the game. We are in a relegation fight and obviously they are not happy."
But the Scot was in defiant mood as he added: "I'm not somebody who shirks a challenge. I will keep going and keep fighting to get the points that will make us safe."
And after speaking to Villa's American owner Lerner and Faulkner, he revealed: "They were supportive. They said we have got to keep our heads up and that everybody has to stay together and battle together to see it through."
Bolton boss Owen Coyle said he gave his players a dressing down at half-time following their disappointing first-half display but was impressed at how they fought back in the second half.
"We felt aggrieved to go a goal behind in the second half because we started reasonably well," said Coyle.
"But the character, belief and the quality we showed after going behind was there for everybody to see.
"Every time we passed the ball, we looked pleasing on the eye, culminating in some good chances.
"Many a team would feel sorry for themselves at one goal down but we picked ourselves up. They're a credit to themselves.
"With a game in hand, we're the masters of our own destiny and we will decide our own fate."