Chelsea rediscover resolve to reach Champions League final
Last updated on .From the section Football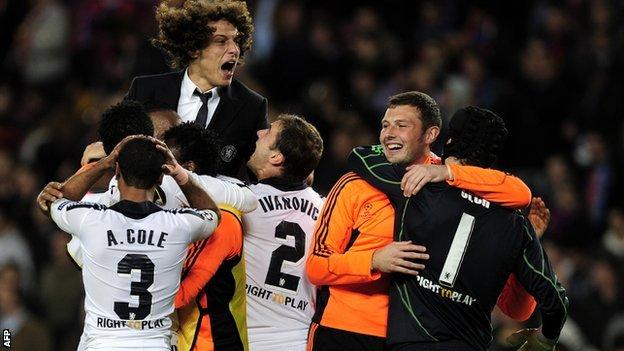 This time they would not be denied. Chelsea are in the final of the Champions League - only they know how.
It was a triumph of guts, determination and spirit over the brilliance of Barcelona, which for once was nowhere to be seen just at the very moment they needed it most.
The referee, the penalty shoot-out, the ghost goal, have all conspired to deny Chelsea the prize they crave above all else in the past decade. This time, there were no complaints, no conspiracy theories.
"I don't think I've ever been so surprised by a football game in my entire life," former Chelsea winger Pat Nevin told BBC Radio 5 live.
"I am still not sure that actually happened. Chelsea beat Barcelona on their own home ground, with 10 men and without their centre backs on the field.
"Of course they rode their luck, but you make your own luck in this game and when you work as hard as Chelsea did tonight you deserve that. Incredible."
There were heroes in white everywhere, with Frank Lampard and Branislav Ivanovic throwing their bodies in the way of everything. Ashley Cole eclipsed Daniel Alves while Ramires, Raul Merieles and Lampard stifled Barcelona in midfield.
Disunited and disjointed under André Villas-Boas, Chelsea showed further evidence that they have been re-energised and rejuvenated under Roberto di Matteo.
Tactically, the Italian got it spot-on again according to former England defender Danny Mills, with a game plan that, allied to spirit, focus and endeavour, frustrated Barcelona. From being a no-hoper in the race to succeed Villas-Boas on a permanent basis, he is now a strong contender.
"Di Matteo has done a fantastic job," said Mills.
"When he came in Chelsea looked in real trouble. But he has given the senior players a lot of responsibility - they have taken that on and they have done incredibly well.
"Chelsea were compact, disciplined. They sat on the edge of their box, they didn't chase the ball. They won ugly but they won."
In 2008, Chelsea marched to the Champions League final under the guidance of caretaker manager Avram Grant. The Israeli enjoyed a charmed run with a squad hardened under José Mourinho but, four years on, the expectation was that these players had grown too old, too slow, too past their prime to rediscover that momentum.
"The senior players were magnificent again tonight," Mills added. "They have been magnificent in the past few weeks and they were again tonight. But as were Ramires and Meireles."
It looked a lost cause after 42 minutes. Terry had been shown the red card for a kneeing Alexis Sanchez in the back and Barcelona had scored either side of that decision. It was one-way traffic.
Chelsea created for themselves an utter disaster and somehow rose to find hope, and with it, power and effectiveness to turn a lost match around. "At 2-0 I expected the flood gates to open," Mills added.
"It was Ramires who got them back in it. The sending off almost helped, Chelsea as hard as that is to believe. But it helped them to stay compact. They sat on the edge of their box, didn't chase the ball."
In the short term, Chelsea must work out how to win a Champions League final against either Real Madrid or the hosts Bayern Munich without suspended quartet Terry, Ramires, Meireles and Ivanovic. Cahill and David Luiz must overcome hamstring injuries if Chelsea are to have anything approaching a recognised centre back pairing.
In the long term, Di Matteo may have made the appointment of the next Chelsea manager even more complicated than it already was.