Non-league Bacup Borough could play six games in a week
Last updated on .From the section Football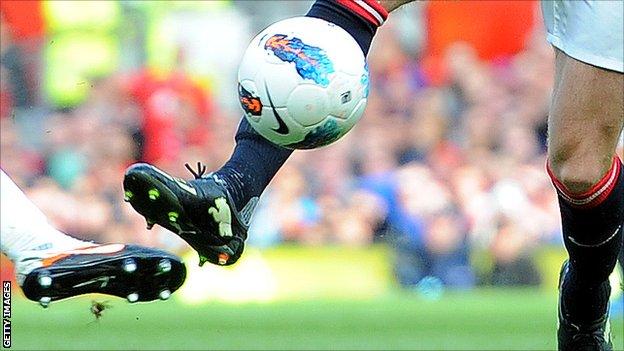 North West Counties Premier League side Bacup Borough could be forced to play their final six league games of the season in the space of a week.
They were due to play six matches in six days, but Tuesday's home game against Winsford has been called off.
Manager Brent Peters told BBC Sport: "We've been playing catch up from the first month of the season.
"We were five games behind other clubs in our league without having a game called off because of the weather."
The match against Winsford, which was postponed because of a waterlogged pitch, has yet to be rearranged.
The deadline to complete the league fixture programme is on Saturday, as time is needed to sort out any outstanding promotion and relegation issues before the leagues are restructured for next season.
The North West Counties League have extended the deadline until Monday so that Bacup can play all of their remaining matches, but Peters believes it should be extended further, and that the fixture schedule could be organised better to allow for postponements during the season.
Peters continued: "The early rounds of the FA Cup and FA Vase begin in the second or third week of the season.
"It's not just us. Other teams who have been successful are having the same problem.
"The powers-that-be won't challenge the FA on their guidelines for when the season ends.
"Nobody can predict the weather. We're in April and we're having horrendous weather.
"When the weather turns and teams are successful in cups, it impacts on their league programme.
"It's putting intolerable pressure on players and staff. We've got to wash the players' kit, get the ground prepared, get the catering sorted and we're asking supporters to come and watch us every night of the week."
Bacup, who are safe from relegation despite being so far behind in their fixture programme, were due to play their outstanding six matches over seven days.
However, that looks likely to be changed as it is possible that their final match of the season, at home to Colne, will be brought forward to Sunday as the original date clashed with the Manchester derby.
And Peters is worried about the effect that playing six times in six days will have on his squad.
"Although we're in non-league, we do a lot of work on fitness and sports science," he added. "All the emphasis in modern day football is all about warm downs and getting the right rest before the next game.
"They're asking lads to get up at 5am, do a day's work, and then go and play a competitive game of football every night in the week.
"Two lads have already texted me to tell me that their legs are in bits, and that's only after one game (a 2-0 home defeat to AFC Blackpool on Tuesday). It's a ridiculous situation to be in."
Bacup are also due to play Maine Road in the North West Counties Challenge Cup final on Thursday, 3 May.