Portsmouth make job cuts before creditors meeting
Last updated on .From the section Football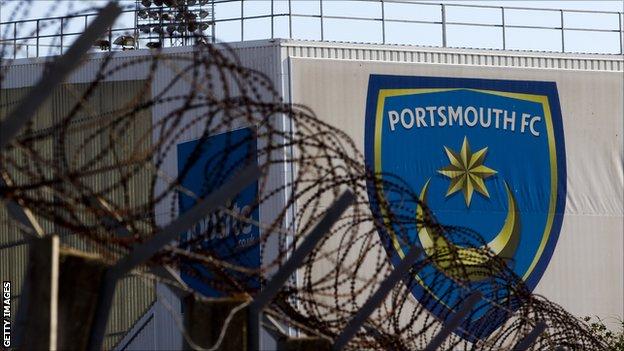 More jobs have been cut at debt-hit Portsmouth prior to a meeting intended to pave the way for the club to exit administration.
Four staff have been made redundant, with club ambassador Linvoy Primus one of those to have departed on Wednesday.
Portsmouth's administrator Trevor Birch will meet with creditors on Thursday.
There were 30 redundancies at the club, £58m in debt and searching for new owners, in February. Pompey were relegated to League One on Saturday.
Primus' departure from Pompey brings to an end a 12-year association with the club which started when he joined as a defender in 2000.
He retired in 2009 but stayed on as a club ambassador.
"To be honest I'm not sad or disappointed, I know that might be strange after such a long connection with the club," Primus told BBC Radio Solent.
"I've been prepared in terms of doing other stuff with my charity, school work and church work. Once one door shuts another one opens."
Thursday's meeting at Fratton Park should see the formation of a creditors' committee, which will represent the views of those owed money by the club.
Administrators PKF issued a report on 11 April to Pompey's creditors.
Unsecured creditors will be asked to accept the contents of the report. The 1100 BST gathering at the Victory Lounge will also give creditors a chance to air their views to the administrator.
On Saturday, the club were relegated to League One with Birch telling BBC Radio Solent that would cost them £1.3m.
Birch added that he had "several interested parties" looking at buying the club but that he was still awaiting a firm offer, with liquidation still a distinct possibility.
"As things stand, we cannot rule out the possibility of having to liquidate the company if our efforts aren't successful," he said.
"It would be irresponsible to claim otherwise. However, we want the club to have a sustainable long-term future and are working hard to make this vision a reality."
Pompey's administrator will also give an update on the club's future at Thursday's meeting with creditors.
"We continue to believe that we can find a buyer for the club before the money runs out and are doing everything we can to achieve this," said Birch.
"It's what the club's supporters, staff and players deserve after the turbulence and uncertainty of the past few years. It will also result in the best possible outcome for the creditors as whole, in our view."
Of Pompey's £58m debt, £38m is owed for the purchase of the club from the previous administrators.
A further £10.5m investment made by former owners Vladimir Antonov's Convers Sports Initiatives (CSI) remains outstanding.
CSI themselves will be represented by administrators UHY Hacker Young at Thursday's meeting.
Players are due £3.5m in wages and bonuses for the last two seasons, while £2.3m is owed to HM Revenue and Customs. Additionally, £3.7m is owed for general trade.
In order to exit administration, Pompey's creditors will have to accept a Company Voluntary Arrangement (CVA).
A CVA is an agreed mechanism for exiting administration and means creditors are likely to have to accept a percentage of what they are owed.
In 2010, when Portsmouth were last in administration, they offered to pay their creditors 20 pence in every pound they owed.
A similar or lesser offer is likely this time but the CVA will need to be supported by 75% of unsecured creditors.
"Since our appointment, my PKF colleagues and I have been focused on getting Portsmouth out of administration as soon as is practically possible through the sale of the club as a going concern and a subsequent CVA," added Birch.