Cambridge United reveal new stadium details
Last updated on .From the section Football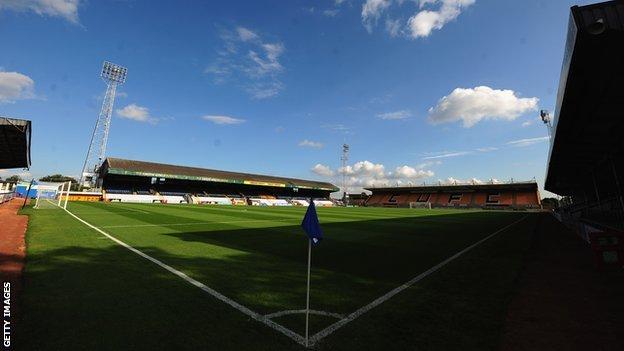 Cambridge United have revealed further details of their proposed stadium relocation plans.
The U's are hoping to move from the Abbey Stadium to a new community stadium in Trumpington, on the outskirts of the city.
But residents are concerned because the new stadium would be part of a sporting village including 450 new houses.
Club chairman Paul Barry told BBC Radio Cambridgeshire: "We are closer to this making this a reality than before."
Detailed plans for the new sporting village were made available as the club began its centenary celebrations with a match against a West Ham United XI on Tuesday evening.
If the plans are to come to fruition, the land at Trumpington Meadows will need to be re-classified from 'Green Belt' status.
Property development company Grosvenor, which acquired the Abbey Stadium in 2010, hope to submit an application later this year, with the start of the 2017 season set as the anticipated completion date.
Ed Skeates, project manager for Grosvenor Estates, said: "We've always been clear that we're a commercial business, we're not a charity, but we like to get involved with projects in Cambridge which we believe are worthwhile.
"Commercial development makes the world go round, but that doesn't mean we can't do some fantastic things. The reclassification of greenbelt land is now our major challenge, but we believe there are strong arguments for allowing this as a special case.
"Like the fans, we think this is a fantastic project which we're impatient to make happen, but potentially we could be on site within five-to-seven years."
However Liz Woodham of the Trumpington Residents Association said the local area was already facing major residential development.
"The Trumpington area already has 4,000 homes about to be built, so we're already under pressure, and the Community Stadium plans include another 450 homes," she said.