Rangers manager Ally McCoist 'disgusted' by threats to SFA panel
Last updated on .From the section Football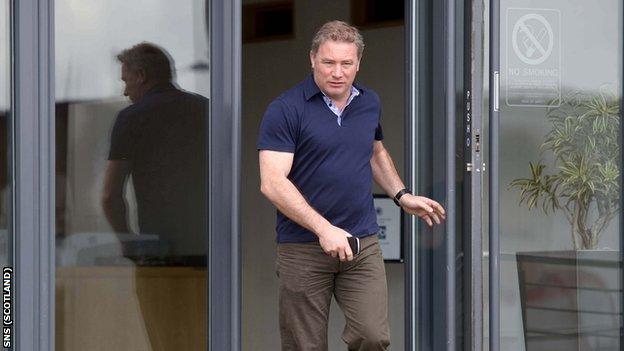 Rangers manager Ally McCoist says he is disgusted by threats made against the Scottish FA panel that handed out punishments to the club.
Police have advised the panel members after their identities were revealed.
McCoist had stated his wish to know which three men had handed the club a 12-month transfer ban.
"I would not for one moment want anyone to interpret my remarks as a signal to engage in any form of threatening behaviour," said McCoist.
"Such activity disgusts me and anyone who engages in it does Rangers Football Club nothing but harm. No Rangers supporter should get themselves involved in it - not now nor at any time.
"Our focus has got to be firmly on ensuring that the club's case in appealing the sanctions imposed on us is put forward robustly and in the appropriate manner."
That appeal could take place next week, as Rangers' administrators Duff & Phelps continue the process of identifying a preferred bidder to take control of the club.
The names of those responsible for imposing the year-long transfer embargo were published on internet sites and the SFA said all three received "abusive and threatening communication".
The punishments, which also included a club fine of £160,000, came as a result of Rangers being found guilty of five breaches of SFA rules, while owner Craig Whyte was found guilty of two rule breaches and fined £200,000.
"I would like to make quite clear my position in relation to the decision by the SFA's judicial panel which earlier this week imposed sanctions against Rangers which have far reaching consequences for our club and Scottish football," added McCoist.
"I firmly believe that decisions of this magnitude should be fully transparent and everyone should have confidence in the system that has been created to deliver such a finding.
"When I called for full transparency on Tuesday I took the view that the decision by the judicial panel should be subject to proper scrutiny. It is unthinkable in any walk of life that such a significant punishment would be meted out without full transparency.
"I fully understand that there are difficult decisions to be taken in football and they will never suit everyone but in this day and age clarity and transparency are surely of paramount importance.
"Rangers Football Club was a victim of what happened during the tenure of Craig Whyte. The club was not an accomplice, a co-conspirator nor a perpetrator of wrongdoing. We suffered from it and still are.
"I hope that our appeal can be dealt with by the SFA as quickly as possible as the situation for the club and the possible ramifications for Scottish football are very serious."