Tottenham will miss out on Champions League - Corluka
By David Ornstein
BBC Sport
Last updated on .From the section Football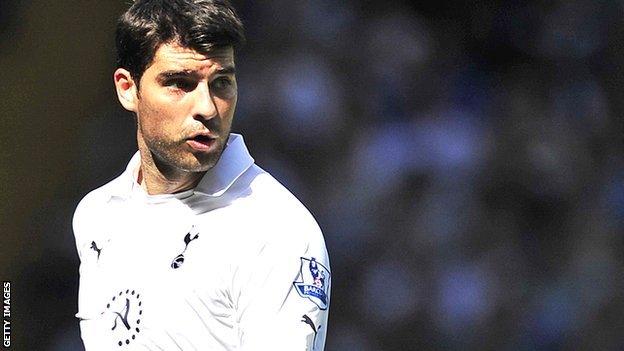 Tottenham defender Vedran Corluka fears the club will miss out on Champions League qualification, blaming their slide on a lack of squad rotation.
After spending much of the season in contention for the Premier League title, Harry Redknapp's men have fallen to fifth with three wins from 14 games.
"I wouldn't be surprised if they finished sixth," Corluka, on loan at Bayer Leverkusen, told BBC Sport.
"They didn't rotate enough, they don't have depth on the bench."
Redknapp has used 47 players across 49 matches in four different competitions this campaign.
But 10 players have made more than 30 appearances, right-back Kyle Walker leading the way with 43.
"He didn't rotate enough," said Corluka, who joined Leverkusen in January until the end of the season. "That's the main problem.
"I watched almost every Spurs game and they played them all with the same 11, 12, 13 players and that's why the players now are really tired."
When Tottenham beat Everton on 11 January they moved to within three points of then leaders Manchester City.
But they were rocked by defeats at City and Arsenal, with their last eight matches including four losses and three draws.
Spurs are now six points behind third-placed Arsenal, three adrift of fourth-placed Newcastle and one ahead of sixth-placed Chelsea.
But if Chelsea win the Champions League final and finish outside the top four, only the top three Premier League clubs will qualify for Europe's elite club competition.
"Tottenham, for me, had one of the best teams in England and of course it will be an unsuccessful season if they don't go to the Champions League," Corluka commented.
"I don't know what the chairman will do if they don't qualify. I know only that it will be an unsuccessful season."
When asked if missing out on a Champions League place would constitute failure, Corluka added: "Yes, especially because three months before they were in the title race challenging City and [Manchester] United.
"Now they are three points behind fourth spot. They are fifth and it's going to be really difficult for them."